NYC CO union chief gets COVID-19 shot as vaccine mandate looms
Benny Boscio joins the city's two other correction union presidents in getting the jab
---
By Graham Rayman
New York Daily News
        
NEW YORK — Weeks after declaring he wasn't vaccinated, the influential head of the city's biggest correction officers union has gotten the jab.
Correction Officers Benevolent Association Benny Boscio — who leads the workforce with the lowest vaccination rate of any city agency — received the COVID-19 vaccination this month, his spokesman Michael Skelly said.
He thus joins the two other correction union presidents — Patrick Ferraiuolo of the Correction Captains' Association and Joseph Russo of the Assistant Deputy Wardens Association, which represents deputy and assistant deputy wardens — who said they received the vaccine early on.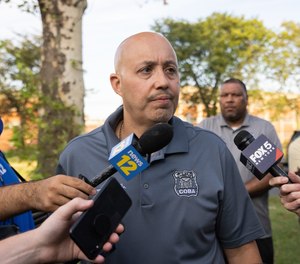 Boscio had said in early October that he was not vaccinated.
Other municipal union leaders who have taken the vaccine include those of the NYPD captains and detectives unions, the massive District Council 37 and the Uniformed Firefighters Association.
While the correction union leaders have the vaccine, the vaccination rate among rank-and-file remains a concern. The Department of Correction rate is just 51%, according to Oct. 20 DOC figures.
Rikers continues to reel from a staffing crisis that could be exacerbated once Mayor de Blasio's vaccine mandate goes into effect on Friday.
Officers who work in jail clinics, the holding areas in Elmhurst and Bellevue hospitals and two jails that house people with medical conditions at Rikers have to get the vaccine or be transferred. Unvaccinated non-uniformed Correction would be put on unpaid leave.
On Sunday, de Blasio said he was pushing the mandate deadline for "a small group of correction officers" back to Dec. 1 — the only city employees granted such a reprieve.
But in fact, the group given the deadline extension includes officers working in at least five other jails on Rikers Island and in courthouse lockups — a large group critical to Correction Department operations.
The detainee infection rate began to fall in April, but start to rise again in mid-August through September, city data shows.
As of Oct. 15, there were 633 active and recovered COVID patients in the jails, and 61 with an active infection.
As of Oct. 14, a total of 2,371 correction staff have tested positive for the virus since March 2020, according to city Board of Correction figures. Fourteen DOC staff have died.
Boscio, in a statement, said the union has "fought vigorously" to protect the rank-and-file from the virus, including purchasing more than 50,000 masks and thousands of bottles of hand sanitizer. It also sued the city to get free COVID testing on Rikers Island.
"Correction Officers were among the first to receive the vaccine if they chose to be vaccinated," he said.
Ferraiuolo, the head of the correction captains union, said he got the vaccine early, but for his members, he still believes it should be their choice. He has asked the city to make the $500 bonus offered by DOC for vaccination retroactive to those who previously got the vaccine.
"I have a responsibility to the membership and I am telling them that come these dates, they will be on leave without pay and there's no getting around it," he said.
"But I still believe in choice," said Ferraiuolo. "I don't think it's within my scope or authority for me to guarantee to someone there's no long term side effects."
Correction officials have created a range of incentive to encourage vaccination including the $500 bonus and a vaccination site on Rikers. A get out the vax campaign is also under way with a special video message from Dr. Anthony Fauci.
"Right now we are at a critical crossroads in the COVID-19 pandemic. More than 90% of these hospitalizations and 99% of these deaths are among people who are not vaccinated. We can succeed if you and your colleagues join in getting vaccinated," Fauci says in the video.
With John Annese, Michael Gartland, Thomas Tracy and Kerry Burke
©2021 New York Daily News.
McClatchy-Tribune News Service