Drug-addicted NH inmates offered opioid blocker
The program promises to help participants in the program, as well as the public, because the hope is that reducing addiction rates will also reduce addiction-related crimes
---
By Elizabeth Dinan
Portsmouth Herald
BRENTWOOD, N.H. — County inmates struggling with addiction now have the opportunity to receive injections of the opioid blocker Vivitrol, said Stephen Church, superintendent of the Rockingham County Corrections Department.
The once-monthly injection is said to block the effects of opioid-based narcotics and is also effective for treating people with alcohol addiction, Church said. Unlike Suboxone and methadone treatments, he said, Vivitrol blocks a person from getting high from opioid-based drugs, which includes heroin. A positive side effect, Church said, is that the drug also blocks cravings for drugs and alcohol.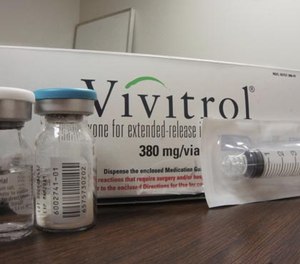 "We're just rolling this out," Church said. "It finally gives us a chance to practice corrections."
Church said the program promises to help participants in the program, as well as the public, because the hope is that reducing addiction rates will also reduce addiction-related crimes.
According to the manufacturer, Alkermes, Vivitrol is an injection of naltrexone and is only to be administered after someone has stopped using alcohol or opioid-based drugs for a short period of time. Church said inmates detoxify from their addictions while they're incarcerated, which makes them good candidates for the treatment.
"It's a good fit for someone incarcerated who has already not been using for a while," he said.
Alkermes is paying the $1,000 per injection cost for county inmates to begin the program, Church said. Corrections staff will also work to pre-enroll participating inmates in Medicaid, which will cover the cost after they're released, said the jail superintendent.
"So there's a plan in place and it's paid for," he said.
Inmates are invited to participate on a voluntary basis and since the program was recently launched, three people have enrolled, said Church. He said the program's anticipated success is based on a mandatory requirement that participants also engage in counseling while in the jail, as well as after they're released. Church said the county jail offers a 28-day residential treatment program, counseling and case management. Inmates are also educated about resources available in their communities to continue counseling after they're released, he said.
"Addiction counseling is just as important," Church said. "Everybody is working together. It's a hand-off to the community providers."
Some people "aren't a fit," he conceded. Some medical conditions, including pregnancy and people with liver problems, preclude a person from using Vivitrol, according to the manufacturer. Other people have already "said no," Church added.
For inmates who accept the opportunity, according to the county jail superintendent, the program is a "re-entry model."
"It's an incredible enhancement to post-release," Church said.