NH jail administrators turning to Suboxone to curb inmate opioid cravings
Suboxone, a drug that contains buprenorphine and Narcan, helps quell inmates' opioid cravings and blocks the effects of heroin
---
By Xander Landen
The Keene Sentinel
CHESHIRE COUNTY, N.H. — On Monday, July 25, Matthew Johnson will be released from the Cheshire County Jail. Johnson, 34, has been addicted to heroin for 22 years and is serving a sentence for the sale and possession of the drug.
Johnson's latest stint marks the 12th time he has been in the Cheshire County Jail on drug-related charges and he said since he started recovery for his addiction three-and-a-half years ago, he's relapsed four times.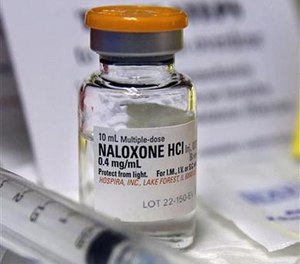 But Johnson has a plan to make his upcoming release from jail different: this time, he thinks he'll be able to stay clean.
"I can't afford to do it again," he said.
In the weeks leading up to his release, Johnson worked with the case manager at the Cheshire County Jail, Doug Iosue, to get a referral to a provider in the community who might prescribe him Suboxone.
Suboxone is a drug that contains buprenorphine, which helps quell patients' opioid cravings. It also contains naloxone — more commonly known by its brand name Narcan — an opioid antagonist that blocks the effects of heroin.
Before Johnson could line up an appointment with a doctor, he required phone screening with a counselor at the Keene Metro Treatment Center in Swanzey, which prescribes Suboxone. He passed the screening and then planned it so that a meeting with a doctor at the treatment center was his first stop following release.
A 6 a.m. on July 25, Johnson will be assessed at Keene Metro. If the doctor decides Johnson is a good candidate for Suboxone, Johnson will get his first dose. This, and all subsequent doses he would receive at the clinic daily — and eventually in weekly amounts — are covered by Medicaid.
Johnson hopes his appointment goes well and that Suboxone, along with counseling and group therapy, will be the key to finally kicking his addiction when he restarts life on the outside.
"I know that me going home without Suboxone could be a potential set-up for relapse," he said. "That's why I took the steps to have this all happen, so I don't fall into that trap."
This year, the Cheshire County jail has referred more inmates like Johnson — who are committed to recovering from their addiction and about leaving the facility — to providers of medication-assisted treatment than ever before. Since January 2016, the jail has referred 27 inmates to medication-assisted treatment providers in Cheshire County, according to Iosue. That's three times the number in 2015, when the jail made seven referrals. In 2014, the jail didn't make any.
Until recently, Iosue was skeptical about sending inmates to providers of medication-assisted treatment. These providers use both behavioral therapy and medication to treat substance abuse disorders.
To prescribe medications like Suboxone, methadone and buprenorphine providers must qualify for and obtain special licenses; the medications can't be prescribed by a primary care doctor.
"Three years ago I would have been pretty opposed to medication-assisted treatment for someone who had already physically withdrawn and detoxed," Iosue said. "I would have said 'What's the need?'"
But he changed his mind about medication-assistant treatment after seeing the success previous clients had.
Many of the addicted inmates he works with in jail are involved in the Cheshire County Drug Court following their release. After monitoring the stories of former clients as they moved through the drug court, he found some of them struggled to stay clean using traditional forms of treatment, like mental health counseling and group therapy. But he noticed that a portion of those who struggled dealt with their addictions better than ever before after introducing Suboxone to their treatment regimen.
"I've been genuinely impressed by an improved level of success in some of the clients who try to genuinely get into recovery without medication-assisted treatment and couldn't quite get over the hump," Iosue said. "I've seen a percentage of them on Suboxone get into a better quality of recovery."
But it's not a magic pill; those who succeed with medication-assisted treatment don't depend solely on medications like Suboxone, he stressed. Those who make strides in recovering from opioid addiction value both the medical and psychological services medication-assisted treatment providers offer, Iosue said.
The majority of Iosue's medication-assisted treatment referrals have been to Keene Metro Center in Swanzey, where newly released inmates are typically prescribed Suboxone or occasionally, buprenorphine, according to Iosue. Iosue has also referred inmates to Recover Together in Keene, another Suboxone provider.
The jail's increased referrals to medication-assisted treatment providers come at a time when both the jail and the state as a whole are struggling to deal with an unprecedented opioid crisis.
Data released by the Office of the Medical Examiner on July 11 show that so far this year there have been 161 deadly overdoses this year in New Hampshire. That number doesn't include 86 suspected fatal drug overdoses still pending toxicology results. The projected number of overdose deaths for 2016 is 494 — almost 2.5 times the number of deaths in 2013.
Increased opioid use throughout the state is also reflected in the number of opioid addicts in the Cheshire County jail.
Barnes Peterson, who directs mental health and substance abuse recovery services at the jail, said addicted inmates' drug of choice is overwhelmingly heroin and that more people are coming in to the jail addicted to opioids than ever before.
Sixteen years ago, when Peterson started working at the jail, this wasn't the case. Alcohol, marijuana and cocaine were addicted inmates' primary drugs of choice on the outside, he said.
"Opiates were far down the list," Peterson said.
Last year, of the 350 inmates that Peterson assessed about 75 percent had substance abuse issues. Of the number of drug users he saw 55 percent abused opioids. When Peterson arrived at the jail, he said that number was closer to 10 percent.
Even though demand for medication-assisted treatment from newly released inmates is increasing as the number of those addicted to opioids goes up, Keene Metro's program director Jim Beeler said he's never denied a referral from the Cheshire County jail a prescription.
But Beeler said that while Keene Metro will prescribe recently released inmates Suboxone and buprenorphine, it typically doesn't prescribe them methadone. Keene Metro prescribes methadone to the majority of its patients, however, according to Beeler.
Iosue discourages inmates dependent on opioids from considering methadone treatment because methadone is potentially more addictive and difficult for patients to wean off of, he maintains.
"When (the inmates) are being more honest they admit Suboxone was a better choice for them," he said.
Although he hasn't begun formal treatment, Johnson already knows what taking Suboxone is like. While he was in recovery outside the jail he said he would often buy it on the street and use it to help him stay clean.
He said he's never tried methadone; it only makes users overly intoxicated and drowsy, he said. But Suboxone kept him "motivated."
It helped him tune out his opioid cravings and allowed him to dive into a construction job, he said. Outside of jail, he worked in Keene remodeling homes and doing roofing and siding.
But like methadone, some said Suboxone can also be addictive.
Rebecca Lawrence, an inmate who said she received a federal sentence for selling heroin in Vermont but is being held at the Cheshire County jail, claimed she's as addicted to Suboxone as she is to heroin.
Before she was moved to the Cheshire County jail, she was at the Chittenden Regional Correctional Facility in Vermont. While at that facility, she said she was able to continue her treatment with Suboxone which had lasted on and off for seven years. The Cheshire County jail can't provide Lawrence Suboxone, however. It is not licensed to prescribe medication-assisted treatment according to Peterson.
"I was transferred from Vermont to this jail and they cut me off cold turkey," Lawrence said.
Lawrence said that she went through withdrawal from Suboxone at the Cheshire County jail for days and that the jail only treated her symptoms with over-the-counter medication.
While uncomfortable, Suboxone withdrawal isn't life-threatening, Iosue said.
"It's actually less dangerous than going through severe alcohol dependence," he said.
Iosue said the jail has only provided medication-assisted therapy treatment to inmates while they're staying at the jail in emergency situations. Several times it happened when a pregnant woman's withdrawal from methadone resulted in danger to her fetus; in another instance, a woman with severe mental health issues was becoming "psychotic" during Suboxone withdrawal, he said.
Peterson said it would be a logistical and financial challenge for the Cheshire County jail to obtain the licensing and resources to provide medication-assisted treatment for inmates during their stay.
"It's fairly complicated in terms of how do you pay for it. Getting people who will prescribe it and follow those inmates over time. It's very common for people not to follow through with treatment," Peterson said.
Iosue said that, as they learn more about medication-assisted treatment for inmates and its potential to treat addiction, he can imagine giving more thought about its practicality for them.
But for now, inmates must wait until they are released before they can either continue or begin the treatment.
In many cases, newly released inmates don't intend to be on Suboxone for a long period of time. Johnson said he plans on using the medication for around six months to a year, to avoid relapsing during what he describes as an unstable period following his release.
"My life when I go home could potentially be a little bit hectic," he said.
Johnson said that when he leaves jail he plans on fighting for custody of two of his children and he hopes that taking Suboxone for a short period of time will help him during a time when stress might otherwise trigger his desire to get high.
Amanda Dodge, a recently released inmate from the jail who has been addicted to heroin for ten years, feels the same way. She plans on getting a prescription for Suboxone in the next few weeks, and adding it to her regimen of mental health counseling -- just until she gets a job and feels stable on the outside again.
"I don't want to be on it for a long time, but I want to be on it for now," she said.
She also worries about the fact that if she uses heroin again, she could easily end up back in jail. She's on probation for a 2014 theft charge, and faces frequent drug tests. Failing, or admitting to using heroin could result in more jail time, but taking Suboxone could help her avoid it.
"It's a crutch. It's a crutch for now," she said. "I don't have room for error."