COs share: 19 tips for surviving a corrections career
If you want to survive in this world, you have to know your vulnerabilities and you have to be willing to listen to others who have walked the walk before you
---
As most would tell you, corrections is not for everyone. It's a career that will test your heart and push you to the limits. If you want to survive in this world, you have to know your vulnerabilities and you have to be willing to listen to others who have walked the walk before you. 
Experience is key in this profession and can never be replaced with classroom knowledge. Below is a list of advice from senior staff that will help you survive your career in corrections.
Just Some Friendly Advice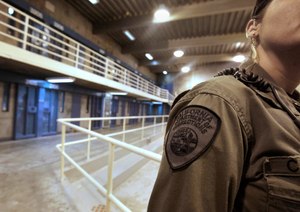 1. The best advice I was given when I started was to be firm, fair and consistent because at the end of the day the inmates are still human beings. I was also told not to change from day to day, be very consistent in who you are so the inmates know what you expect of them. — Jonathan Casteel
2. A grievance just means you're doing your job. — Paul Busch
3. Simple respect will make your job a lot easier. — Zack Robinson
4. The best advice....Do not argue with inmates....give them a directive and step....verify later....don't press them out in front of other inmates....Respect is the key. Also, When drama pops off on a block....watch out for baby oil sprayed on the floor. Listen more, talk less. And size means nothing. — Andre Andrews
5. To slow down and make sure I set the tone not the inmates. — Joe Mynaugh
6. 8 and skate! — Vee Surdo
7. Always say no. You can more easily turn a no into a yes but you cant turn a yes into a no. — Larry Davidson
8. Know yourself! Know your vulnerabilities! And, most importantly, remember this, "anyone can be manipulated." — Anthony Gangi
9. A sergeant at my first institution told me that the only way to survive in corrections was to get to be very good at it. He said that if I became exceptionally proficient at it that I would enjoy it and if I enjoyed it the negative aspects would never seem to be a problem. — Russ Hamilton
10. Pay attention to your surroundings and what's going on because things can happen so damn fast. Also, don't let them see you sweat and don't act all cocky because you're asking for trouble. — Robert Snavely
11. Be honest with the inmates. — Virgil Starkey
12. I always tell my trainees, you cant get into trouble for shutting doors on a wing. — Robert N Renee Taylor
13. "Kid, if you ever become effective and competent in this business, it'll make a liar out of you. Find a way to tell the truth." — Wayne Sanderson
14. Never say anything at work (to an inmate or co-worker) you wouldn't say in front of your shift lieutenant. — Charlotte Headley
15. Show yourself friendly but Do Not be their friend! — Kat Williams
16. Be firm, fair, and consistent EVERYDAY. Run your unit, don't let it run you. — John Burn
17. Don't bring the job home and don't bring home to the job. — Andy Mancusi
18. Cover your ass! — Krista Jenkins
19. Take your time when writing a report. You never know who is going to be reading it. And leave your opinions (why) out of it. — Gary York
Never Ignore Those With Experience
As you can see, listed above is advice that can only come from years of experience. Where we are at today in corrections relates strongly to who we were yesterday. Those who have survived this profession have forged a path for future generations to follow. It is through their blood, sweat and tears that we are able to progress. Never ignore those who have walked the walk and earned their stay in this great profession. The lessons they can teach will be far greater than anything you could ever learn in a classroom.