W.Va. governor signs CO pay raise bill
The bill will provide an $8,000 pay raise for COs over the next three years, bumping starting pay to $32,000 a year
---
By Andrea Lannom
The Register-Herald, Beckley, W.Va.
CHARLESTON, W.Va. — Gov. Jim Justice signed a bill on Thursday that will provide an $8,000 pay raise for correctional officers over the next three years, bumping starting pay to $32,000 a year.
Starting July 1, officers of the Division of Corrections, Division of Juvenile Services and the West Virginia Regional Jail and Correctional Facility Authority will see an increase in salaries.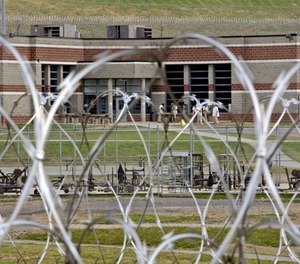 The bill itself provides for a $6,000 pay increase. However, correctional officers will receive an additional $2,000 from the 5 percent pay raise bill passed earlier for all state employees. The bill brings the starting salary of corrections officers from $24,000 to $32,000 over three years.
Justice signed House Bill 4142 in a ceremony at the Capitol.
"We recognize correctional officers are grossly underpaid," Justice said. "To be perfectly honest, turnover and training was costing so much money it was unbelievable."
In 2016, 448 correctional officers left the Division of Corrections with more than 75 percent leaving within their first two years of service. A report from the department also cited high turnover rates and that West Virginia ranked among the lowest in correctional officers' starting salaries.
"We will move them back up into the range of where they are compensated properly and therefore, we can go out and attract the right people and hopefully, we won't have to attract the right people 18 times a week," Justice said.
Department of Military Affairs and Public Safety Secretary Jeff Sandy also discussed turnover rates.
"For every one correctional officer we hired, two individuals were quitting," Sandy said. "Pay was an issue but also, is this a job or career? For many, this was a job until they got another offer from a supermarket or another facility."
Sandy said that last year, West Virginia's corrections system was in a "state of despair."
"We had individuals who on a weekly basis got arrested — correctional officers for misconduct," Sandy said. "The pay was low. Many individuals, when asked why the smuggled drugs in the facility, their answer was they did not have enough money to feed their families. This bill has the opportunity to take those individuals from $24,000 to $30,000 over the next three years.
"Additionally, rather than putting money out there, it develops a career path so they will know what the future will be," Sandy continued. "This is more than a pay raise. This bill is a career builder."
©2018 The Register-Herald (Beckley, W.Va.)