How technology helped Oregon sheriffs save lives during COVID-19
A SaaS-based software system enabled critical information sharing between the 36 member organizations of the Oregon State Sheriffs' Association
---
By Christina Cook and Jason Myers
When the coronavirus pandemic hit earlier this year, preventing the spread of COVID-19 in communities across the country redefined "information overload" with crucial information coming from local, state and federal levels multiple times daily. For even the most sophisticated public safety agencies, sifting through this information to then determine, implement and communicate the proper safety protocols has been overwhelming.
For the Oregon State Sheriffs' Association (OSSA), which encompasses 36 Oregon sheriffs' offices and jails, this was no different. Overwhelmed with an unprecedented level of crucial information, OSSA turned to technology to lead a pandemic response that to date has proven effective with zero cases of COVID-19 in any of its jail facilities.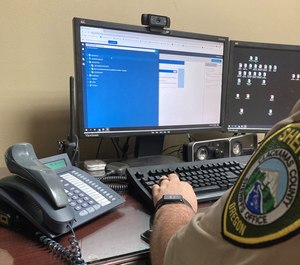 Leaning into technology
Due to a lack of financial resources and oftentimes a shortage of staff, public safety agencies can be slow to adopt new technology. Until 2017, OSSA relied on email and spreadsheets to communicate as well as manage and distribute policies, procedures and training materials.
"The problem with email is that things get lost. Emails are not categorized, even though it might be relevant. You also get people asking for the same thing multiple times," said Operations Captain Lee Eby, Clackamas County Sheriff's Office and OSSA member.
OSSA eventually turned to technology, adopting a software-as-a-service (SaaS) solution. The technology would enable the association to securely share information, training and best practices to all 36 sheriff offices. It would also allow each sheriff's office to view, manage and distribute content to its line staff. The secure, searchable repository of policy and training content would also a path to upload additional, relevant content use, or for review.
A cohesive COVID-19 response
Fast forward to 2020 and the start of COVID-19. While OSSA saw the value of content sharing and keeping all its member offices on the same page, the association never imagined the technology implemented in 2017 would help stop the spread of the coronavirus and save lives.
Before the pandemic, OSSA and its member offices were committed to working together and adopting best practices to achieve operational excellence. This underlying ethos shined brighter when agencies started sharing and adopting the same policies, procedures and protocols early on in the spread of COVID-19.
When the pandemic began, OSSA created a COVID-19 folder in its SaaS-based software system to share the right information in a single, accessible place. This created extreme efficiencies in a situation where new information was coming out two to four times a day and it needed to be tracked, stored and archived.
 Crucial content
The type of documents shared is critical during a global pandemic. OSSA has primarily relied on procedures and protocols from other jails, documentation from the state, the Centers for Disease Control (CDC), Federal Emergency Management Association (FEMA), the Oregon Governor's office, International Association of Chiefs of Police (IACP), National Sheriff's Association (NSA) and the American Jail Association (AJA).
"Now it's all there in one place. Instead of asking somebody for the governor's second order, I can go to this software system, and it's there in the COVID folders," said Eby.
In addition to ensuring the right information is distributed, this also ensured that no inmates were treated differently or put at risk due to the type of information being received.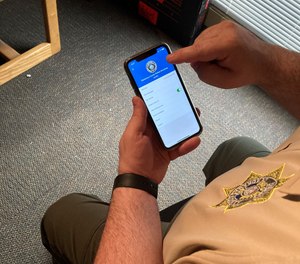 Real-time information sharing
Each week the executive-level staff of each office would have a conference call regarding its COVID-19 response. OSSA would document the outcomes of these calls and post them in this folder. Additionally, individual offices would share their policies and protocols with OSSA, who would then upload them into the COVID folders. If an office wanted to know what others were doing, they could quickly search the COVID folders and find what they needed.
"We want to be doing the same thing for all 36 counties, coming from sound legal advice and making sense. But when you can say "this is what we're going to do, this is a procedure we're going to put in place, this is a practice, this is a change" and you can have the support of those other 35 sheriffs, it strengthens the message of everything being shared," said Operations Lt. Nick Hunter, Marion County Sheriff's Office and OSSA member.
Ensuring inmate safety
Because of real-time information sharing, every jail was able to implement standardized procedures, like temperature checks and questionnaires, to protect its inmates. OSSA could share average daily counts with its members as well as advice for how to respond to legal questions.
The jails also implemented protocols including temperature checks and standardized transport procedures that were critical to enhancing inmate safety.
Additionally, OSSA made mental health top of mind for staff in its jails and helped them to maintain normalcy as much as possible during a challenging time. For example, one office created a suicide prevention training flyer, which was then shared with the other 35 offices for implementation and use in their facilities.
As of today, none of the jails in Oregon had reported a single case of COVID-19. This accomplishment can largely be attributed to the coordinated response of all sheriff's offices very early on in the spread of COVID-19.
Moving forward
As the pandemic continues, OSSA is continuing to collaborate and share its updated procedures and protocols in this new world.
"The strength of OSSA is based on the commitment of those 36 sheriffs and those 36 executive teams coming together. This technology has opened a new portal, so to speak, to get content out when you need to," said Hunter. "Out of crisis or out of tragedy, we tend to learn things and the ability to share all of this content, yes, it applied to COVID-19, but no, that doesn't have to be the end of content sharing."
NEXT: Why every correctional facility needs a COOP plan
---
About the authors
Christina Cook is a marketing manager at PowerDMS, a cloud-based policy, compliance, accreditation management solution that helps public safety agencies with transparency, accountability, risk and liability reduction, increases organizational efficiency, and helps save lives.
Jason Myers is the executive director of the Oregon State Sheriff's Association (OSSA.) Prior to being appointed as the executive director of OSSA, he served as a cadet, patrol deputy, sergeant, lieutenant, commander, undersheriff and sheriff at the Marion County Sheriff's Office. Jason's career spanned 30 years in law enforcement when he retired as sheriff on June 30, 2019.