Strong technique starts with a strong stance
A proper stance will help you keep your balance and create power while being hit, grabbed, pulled, and shoved in all directions.
---
By Steven Benusa
When dealing with a highly-resistive or combative subject — whether you are trying to obtain control with empty hand skills or engaging the subject with a weapon — being able to maintain your base, keep your balance, and stay on your feet is critically important.
A good stance is about much more than how far apart you keep your feet and being sure to bend your knees. A good stance starts at the toes and the balls of the feet, travels through the ankles, and up the body all the way to your head. Each part of the body needs to be properly aligned to provide a stable foundation were you can: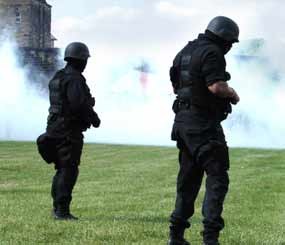 • Maintain balance and keep from stumbling, tripping, falling, being knocked over, or being taken down
• Move quickly and fluidly from one position to another while maintaining a strong base and balance
• Be able to create a large amount of power using kinetic energy from the large muscles of the legs, hips, and core
Fights are dynamic. You have to be able to keep your balance and create power while being hit, grabbed, pulled, and shoved in all directions. Power begins at the feet, with a stable, balanced stance. Turn your toes slightly outward, and pay attention to how far apart your feet are. Don't keep one foot too far forward — you should be balanced forward and backward as wells as to both sides. Maintain this balance by keeping your feet shoulder-width apart and keeping your weight over your feet — not forward or backward.
Don't let your weight fall on your heels. Keeping your weight on your heels will severely limit your ability to move quickly, leaving you vulnerable to being knocked over or falling backwards when dealing with resistive or combative subjects. Keeping too much weight on the balls of your feet or toes, however, will also make you unsteady. Distribute your weight evenly between the front and back of your foot to maintain balance.
Finally, make sure to bend your knees. Straight, locked knees will transfer all of your weight down to your heels, making you more likely to stumble backwards. Keep your knees bent to maintain "spring" in your legs, allowing you to move faster and helping you create power.
A proper stance will prepare you for any surprises that might otherwise knock you over. As with any skill, learning a strong stance takes time, practice, and repetition, so be sure to integrate the principles I've discussed here into your regular training regimen.
Stay strong everyone.