Training scenario: Is shaking an inmate's hand ever appropriate?
Inmate Jackson wants to thank Officer Smith for his professionalism on his last day of incarceration – but would a handshake send the wrong message?
---
As Officer Smith was doing the final tour of his assigned housing unit, which includes ensuring all locks are secured and all inmates are accounted for, he noticed Inmate Jackson waving his hand up and down in an effort to grab his attention.  
Officer Smith walked over to Inmate Jackson to ascertain his concern.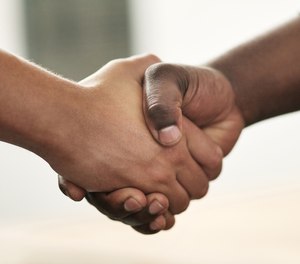 "What's up, Jackson? Why are you waving at me like a maniac?" he asked.
"I am done, Smith," Jackson replied. "Today is my last day. So, I just wanted to say thank you! You are a great officer, and I just wanted you to know I appreciate your professionalism." 
"That's great news," Officer Smith replied with a skeptical look. "Hopefully, you don't return."  
Inmate Jackson reassured Officer Smith that this will be his first and only time in prison. He then reached out his hand to Officer Smith.
"What are you doing?" Officer Smith asked.
"I am just looking to shake your hand as we part ways," Inmate Jackson replied.  
Officer Smith, looking bewildered, quickly said, "I don't shake hands with inmates. I mean, I wish you the best and all, but don't expect me to shake your hand."
Inmate Jackson was taken aback. "I don't get it," he said. "I am showing you a gesture of appreciation. I just wanted to say thanks. No other officer had an issue with me shaking their hand. Why are you being so cold?"  
Frustrated, Officer Smith responded, "I don't care about what the other officers did. I am not shaking your hand. To be honest with you, they shouldn't have either. It sends the wrong message and is inappropriate. Again, I wish you good luck, but I don't shake hands!"
Is Officer Smith being a bit paranoid? In this scenario, is it okay for him to shake Inmate Jackson's hand? Or is Officer Smith correct? Does shaking Inmate Jackson's hand send the wrong message? What are your thoughts? Check out what our readers had to say by clicking the link below.
NEXT: Readers respond: Is shaking an inmate's hand ever appropriate?