10 traits correctional officers admire in their co-workers
What kind of officer do you wish worked with you on every shift?
---
By C1 Staff
You might end up spending more time with them than your actual family, but your co-workers become another set of family you never knew you'd be grateful to have. That being said, there are a number of traits that are desired in great co-workers – the kind of people who can make a 12-hour shift feel like it's flying by, mostly because you're both finding lots to laugh about.
But a great co-worker also has your back and helps keep the both of you safe. We took to Facebook to ask our readers what they look for in a co-worker that they'd love to team up with on any shift, and our readers did not disappoint. Take this list as something to aspire to, so you can become a correctional employee who anyone would want on their shift.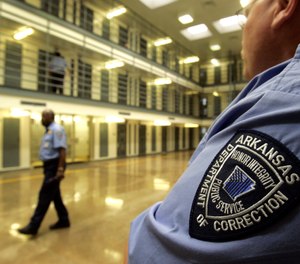 Got another trait you don't see here? Let us know on our Facebook page.
Tammie Mathis: In light of everything that has happened this week, I would have to say dedication and perseverance. I have seen my co-workers walk through the darkest time in our career this week with both of these traits.
Angela Pratt: I think the best trait we have is our off the wall sense of humor. We have integrity, strength, levelheadedness, courage and heroism but, let's face it, our sense of humor is off the chain and can rise above an ugly situation.
Robert Sandford: Keeping their composure while dealing with manipulation, and persuasive criminals.
Dave Janie Wakefield: Someone who doesn't create problems but at the same time someone who proactively resolves issues without unnecessary escalation.
William McGinnis: I admire those who know their job, and insist on doing the right thing, no matter who is watching.
Rego Rodriguez: Good work ethics and positive attitude = good work day together!
Anthony Carvalho: I admire intelligence first, then heart. Heart meaning doing the right thing even when they are working against the grain or the clique as I call it.
Miskoo Petite Sr.: Grateful people are people who never complain or look for something to be negative about. They aren't push overs either. Still capable of doing the job fair, firm and consistent.
Jesse Tedford: Being compassionate and understanding. Those are very important. And having COs not wishing death toward inmates anytime, anywhere. It makes me very sad to see many COs not truly loving their jobs.
Michael Reilly: A partner that will tell you to shut the f-up when need be and the ability to tell you to walk away.