Jails, prisons struggle with number of mentally ill inmates
The largest percentage of mentally ill people behind bars are not in state prisons, they're in jails
---
By James Mayse
Messenger-Inquirer
OWENSBORO, Ky. — In the state's prisons, about 30 percent of all inmates are being treated for some form of mental illness.
Meanwhile, 20 percent of state prison inmates have a serious mental illness, such as schizophrenia, bipolar disorder, mood disorders and other mental illnesses that cause a "break with reality," said the Department of Correction's director of mental health.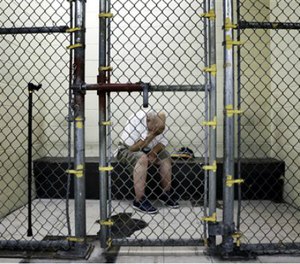 But the largest percentage of mentally ill people behind bars are not in state prisons.
"The national statistics report there are a higher percentage of mentally ill in (county) jails than in prisons," said Dr. Deborah Coleman, DOC's director of mental health.
According to a 2015 report by the Pew Charitable Trusts, jailers nationwide reported that anywhere from 20 to 80 percent of inmates in their jails were suffering from some kind of mental illness. The Pew report also cited a 2005 U.S. Bureau of Justice Statistics report that said 64 percent of jail inmates that were surveyed self-reported having some form of mental illness.
The Daviess County Detention Center has procedures for handling inmates with mental illnesses — processes that start the minute a person arrives to be booked into the jail. But ideally, mentally ill inmates wouldn't come to jail at all.
Dealing with mentally ill inmates "is one of our biggest challenges," Daviess County Jailer David Osborne said. "Jails are inappropriate places for the mentally ill ... Obviously, they have serious problems and need some help other than what they can get in the jail."
Jail was not meant to house, and certainly not to attempt to provide comprehensive care, to people who suffer from mental disorders, Osborne said.
Jail is not a good environment for the mentally ill, he said.
"A lot of these folks are just forgotten" because they receive no visitors, Osborne said. "And they can't get out" if they can't afford the bond. "They're isolated, for their protection and the protection of other inmates.
"It's almost like society has criminalized the mentally ill," Osborne said.
Assessing Mental Health
An inmate's mental health assessment begins at booking, with detention center staff attempting to answer one basic question.
"The first thing that happens (is) we ask a battery of questions, 'Have you attempted suicide?' 'Are you thinking about suicide?' 'Have you ever been treated in a mental institution?'" Osborne said.
"We train our staff how to de-escalate situations without force," Osborne said. "We train staff to recognize signs of suicide."
An affirmative answer to questions about suicidal thoughts or past suicide attempts results in the inmate being interviewed by Natalie Matthis, the jail's mental health professional.
Matthis decides if a inmate needs to be on suicide watch. If Matthis is not available, the inmate is interviewed via video conference by a firm in Lexington, Osborne said.
A person placed on suicide watch is checked every five minutes. "At one time, we've had 15 people on suicide watch," Osborne said.
All inmates are also required to be examined by the medical staff "within a certain number of hours" of being booked, he said. That serves as a backup to the questions inmates are asked at first-arrival.
"If we missed a problem in the first step, hopefully they pick it up," Osborne said.
Matthis does regular rounds at the jail, talking with inmates sometimes through their cell doors. "In a month, I get about 470 sessions in," Matthis said.
Jail is stressful and causes people to be understandably disturbed, Matthis said. But the jail staff also sees inmates with very serious mental illnesses.
"The most (common) is anxiety and depression," Matthis said. But "there are several (inmates) dealing with psychosis.
"I feel like deviant behavior is usually spawned from mental illness," Matthis said. "Because if you have a disorder that is misdiagnosed or not diagnosed, those people act out to try to solve their problems."
Part of the jail inmates' mental health care is "med pass," where technicians deliver prescribed medication.
"We spend $1.2 million (annually) on inmate health care, and that includes mental health," Osborne said. "A big portion of that is prescription drugs for mentally ill inmates."
While prisons can focus on long-term mental health care, the goal of the jail -- where many people are awaiting trial, or at least the completion of their court case -- is to keep inmates stable and to keep them from hurting themselves or others.
"We are not capable of providing everything they need," Osborne said. "We are here to provide custody, not treat anybody" for mental illness.
Substance Abuse
The Department of Corrections has more resources for treating convicted felons with mental disorders, and treatment is the DOC's goal, Coleman said. It's not uncommon to see inmates who have a co-occurring substance abuse issue as well as a mental disorder, she said.
"When I worked in the assessment center, I would always want to know, 'what's your drug of choice?' " Coleman said. Knowing what type of drug a person used primarily would provide a clue to what type of mental illness the inmate was attempting to mitigate through drugs, she said.
"There's a very dramatic use of painkillers with female offenders, and there's a high correlation of trauma with female offenders," Coleman said.
For a woman suffering the effects of some form of trauma or abuse, "how good it must feel to find something to numb that trauma," she said.
An inmate who comes to the DOC through the courts, or who is transferred to the DOC after a jail determines an inmate serving a state sentence has mental health problems too great for the jail, is first assessed for what level of care they need. That means, for starters, assigning them to a state prison that best fits those needs, Coleman said.
The goal of DOC mental health services is not just stabilization, but treatment, Coleman said.
"Sometimes, people in our care have to go through treatment several times before they complete it," Coleman said. "But, we are looking for them to live the best life they possibly can."
DOC inmates being released from prison can also be given a treatment plan so they can continue being treated in the community. A person leaving prison with a mental illness will often have an appointment with a mental health professional already scheduled, Coleman said.
A DOC integration specialist, who begins preparing a post-release treatment plan about six months prior to an inmate's release date, will follow up on the inmate for up to two years, Coleman said.
"I have heard DOC be described as the largest community mental health provider," Coleman said. Prisons "have sort of blossomed into the biggest mental health providers in the states. We weren't built to be mental health centers ... but, for a lot of reasons, we became that."
Alternatives To Incarceration
County jails house people awaiting resolution of the their court cases. Some jails, like Daviess County's, also house certain state inmates who are serving their sentences there. The state pays county jails about $31 daily to house state inmates, an amount that includes the inmate's medical (and mental health) care.
If an inmate awaiting trial appears to have serious mental problems, they can sometimes be addressed through an alternative sentence, such as Drug Court, or through a court order for a psychiatric evaluation.
"Kentucky has the worst history of incarcerating the mentally ill, and we're aware of that," said Daviess Circuit Judge Jay Wethington, the county's chief circuit judge. Because people coming to court with mental illness is common, "Judge (Joe) Castlen and I have a lot of experience with the mentally ill. We know ... the mentally ill need treatment, not incarceration."
People coming to court on drug charges can be sent to Drug Court, where participants are diverted from jail and go through an extensive, monitored treatment program. Inmates in Drug Court see counselors and work on substance abuse and mental health issues.
"The problem is (Drug Court) is limited to addicts," Wethington said. But many substance abusers "are addicts with a dual diagnosis" of mental illness. There is a connection between mental illness and substance abuse, he said.
"A lot of people with mental disorders get off their medications, or never have been diagnosed, and get relief through street drugs," Wethington said. "It doesn't last long."
The courts can also refer people to other mental health resources.
"What we've seen with some regularity is veterans with PTSD (post-traumatic stress disorder)," Wethington said. "We know these people need to get into treatment through the VA center."
A person awaiting trial can also be ordered to receive a psychiatric evaluation at the Kentucky Correctional Psychiatric Center in LaGrange. While the evaluation is to determine whether a person has the mental capacity to understand his or her court case and help prepare a defense, even people found competent to stand trial can return from KCPC with a diagnosis and a prescription to help control the affects of their mental illness.
Defense attorneys "know finding someone incompetent is so rare," Wethington said. "But they know that's part of the process ... of getting their needs addressed."
While a few communities have specialized mental health courts, those require a number of available psychologists and psychiatrists.
"We can't seem to get enough psychiatrists here," Castlen said.
Seeing defendants with mental health conditions is a regular event in court, he said.
"You could look at the judicial center as a hospital for social ills," Castlen said. "We get people who are mentally ill every day."
Copyright 2016 the Messenger-Inquirer