Helicopter pilot tells of French prison break ordeal
The helicopter pilot who was forced to take part in the jailbreak of Redoine Faid has told of how he was taken by surprise, beaten with pistol butts and threatened
---
dpa, Hamburg, Germany
PARIS — The helicopter pilot who was forced to take part in Sunday's jailbreak of French gangster Redoine Faid has told of how he was taken by surprise, beaten with pistol butts and threatened.
Pilot Stephane Buy told RTL radio that he had arrived at the hangar for a pre-booked flight with two clients, apparently in their 20s and 50s respectively.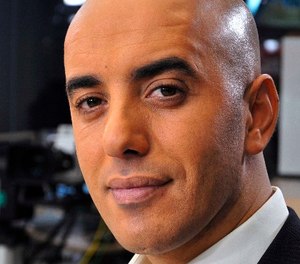 "They had done a flight before that went very well," he recalled. "So I thought it was a father who wanted to give his son a treat and was coming for a second 'first flight.'"
Things started to go wrong very quickly, though, with the pair unexpectedly demanding to be taken out in a different kind of helicopter.
When he explained that the other helicopter was not suitable and didn't have enough fuel, he was told to sort the fuel out quickly and warned that his family would be at risk if he didn't obey.
"They were nice guys who became very nasty and started threatening me," he recalled.
Not long after take-off, he was ordered to land in a field where his mission was explained to him, accompanied by blows with pistol-butts.
Buy said he found that "a little unfair, as there was no need for a pistol-whipping to be able to listen to someone."
A second landing saw the chopper take on hooded men kitted out like special forces - and a moment of terror for Buy when the helicopter repeatedly failed to restart.
"There, they really started to lose their temper... Maybe they thought I was faking a breakdown," he said, recalling that he took one blow to the head that knocked him out for several seconds.
After landing in courtyard of Reau prison and waiting "ten minutes" for the commandos to liberate Faid from the visiting room where he was meeting his brother, Buy said he was ordered to take off again in the direction of Charles de Gaulle airport north of Paris.
Buy said he had not talked much to Faid after the third stop, when the gunmen sprung him from Reau prison: "Very little, no, he was very silent."
His ordeal finally ended when he was ordered to land between a highway and woodland near Le Bourget aerodrome on the northern outskirts of Paris.
Police are still searching for Faid, who was serving a 25-year sentence for his role in a failed armed robbery in which a policewoman was killed.
After he broke out of jail in 2013 using explosives and briefly taking several guards hostage, he spent six weeks on the run.
Officials are not ruling out that he may seek to take refuge abroad.
©2018 Deutsche Presse-Agentur GmbH (Hamburg, Germany)