Mayor: Real estate development on Rikers 'not on the table' after closure
Rikers is expected to close in 2026 after the city constructs borough-based jails and moves inmates off the island
---
Anna Sanders
New York Daily News
NEW YORK — Mayor de Blasio said real estate development is unlikely on Rikers Island – but that closing the troubled jail complex could spur residential housing construction in other parts of the city.
"In all the internal discussions at City Hall, all the initial reviews of options, real estate development is not on the table because it's a site that wouldn't work for it," the mayor said on WNYC's "The Brian Lehrer Show" Friday. "It's immediately next to an airport. And it's a location that is isolated by its nature. So, at this moment, it is not a place we would think of for any kind of housing development."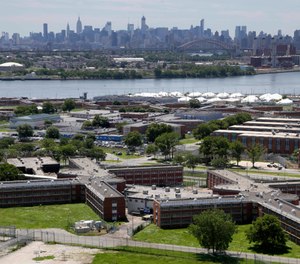 The mayor pledged to close Rikers in 2026 after the city constructs $8.7 billion borough-based jails and moves inmates off the island. Criminal justice reform advocates have long pushed for the massive complex to be closed given its remote locate in the East River and persistently violent conditions.
The mayor said "no, just plain and simple no" when asked if real estate development would replace Rikers during his weekly WNYC appearance.
De Blasio said "one of the more promising options" was to move city facilities – including garages and other staging areas – onto the island.
"The day is coming when every inmate will be off Rikers, those buildings can either be torn down or re-purposed, depending on the buildings," he said. "For some of the things that government does, you could move that to Rikers Island, then you could free up the space to create affordable housing in neighborhoods."
De Blasio stressed he'd be out of office by the time a final decision on the future of Rikers was made and the process could play out over the next 10 to 15 years.
Still, he's said he's "very hopeful that we can find a new use for Rikers Island that really opens up a world of positive possibilities" in other neighborhoods.
"If we suddenly had a huge amount of public land to work with, what could we move over there, and therefore open up space in neighborhoods that desperately need affordable housing in particular, or other types of public facilities," de Blasio said. "It could really be a game changer for the city."
———
©2019 New York Daily News
McClatchy-Tribune News Service