How Idaho's new firing squad law could affect quadruple murder suspect
The prosecutor still has not said whether he will seek the death penalty against Bryan Kohberger if he is convicted
---
By Kevin Fixler
The Idaho Statesman
MOSCOW, Id. — Idaho's approval last month of a new law adding the firing squad as an execution method for death row inmates could one day play a role in the case of Moscow homicides suspect Bryan Kohberger.
In December, police arrested Kohberger, 28, for allegedly killing four University of Idaho students in November. He remains in custody in Latah County Jail awaiting a preliminary hearing in June on four counts of first-degree murder and a count of felony burglary.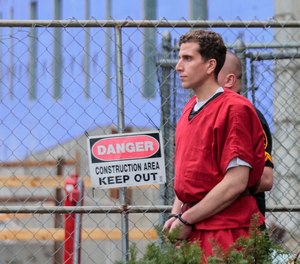 First-degree murder is the only charge that qualifies a defendant for the death penalty in Idaho, which is one of 24 U.S. states that maintain active capital punishment. After Gov. Brad Little last month signed a new law, Idaho will become the fifth state to permit executions by firing squad when it takes effect July 1.
Latah County Prosecutor Bill Thompson still has not said whether he will seek the death penalty against Kohberger, a former Washington State University graduate student, if he is convicted. Per state law, prosecutors have 60 days from when a defendant enters a plea to tell the court whether they will ask a jury to consider a death sentence.
Defendants in Idaho felony cases don't enter a plea until a district court arraignment. That's the immediate step after a preliminary hearing when a magistrate judge — Judge Megan Marshall in Kohberger's case — decides if there is probable cause to elevate the case to district court for a possible trial.
But the collection of charges against Kohberger is extremely rare, if not unprecedented, in Idaho. No other defendant has faced four counts of first-degree murder in one case in recent state history, according to a poll of longtime law enforcement and legal officials and analysis by the Idaho Statesman.
"I feel really confident it will be a capital case," Jessica Bublitz, a Boise criminal defense attorney, told the Statesman by phone. "The commonsense-based reason everyone feels it should be capital murder are the aggravated circumstances. I think this qualifies as especially heinous, atrocious or cruel — the way and the manner they were killed."
The victims in the case were U of I seniors Madison Mogen and Kaylee Goncalves, each 21, junior Xana Kernodle, 20, and freshman Ethan Chapin, 20. All four were stabbed to death at an off-campus rental home shortly after 4 a.m. on Nov. 13 in what police later acknowledged in a search warrant application was an especially bloody crime scene.
First-degree murder convictions in Idaho require that a jury unanimously determine the presence of at least one so-called aggravating circumstance to sentence a defendant to death. Those include a defendant having committed more than one murder, likely being a continued threat to society, having exhibited "utter disregard for human life," or committing a murder that was "especially heinous, atrocious or cruel."
The uncommon nature of the Moscow student homicides — in the city of about 26,000 residents, as well as across Idaho — make direct comparisons difficult for area attorneys. But several cases in the state where an individual defendant was sentenced to death for multiple murders offer insight into whether Kohberger may eventually face the death penalty.
Idaho's death penalty history
Two of the eight prisoners currently sentenced to death in Idaho have been convicted of four murders. But some of those murders were outside of Idaho, and some didn't factor into their death penalty sentence.
Today, Thomas Creech and Gerald Pizzuto are the longest-serving inmates on the state's death row, where they've both evaded the death penalty for decades. Each was initially convicted of a double-murder in Idaho.
Creech, 72, was subsequently convicted of a prior murder in Oregon and also pleaded guilty to killing a fellow inmate while incarcerated in Idaho, for which he received his death sentence. Pizzuto, 67, after his Idaho conviction and death sentence, was convicted of two murders in Washington.
Joseph Duncan, who pleaded guilty to the 2005 killing of four members of a Coeur d'Alene family, may be the closest example to the case against Kohberger. He received three life sentences for three first-degree murders in Idaho, and later was sentenced to death in a separate federal case for murdering a 9-year-old boy who also was a member of the family.
Duncan also later pleaded guilty to killing a 10-year-old boy in Southern California and confessed to murdering two sisters, ages 11 and 9, in Seattle, but was never charged. Duncan was diagnosed with late-stage brain cancer and died in federal prison in March 2021 at age 58.
The federal capital case against Duncan remains the only one in Idaho state history, Josh Hurwit, the U.S. attorney for the District of Idaho, confirmed to the Statesman. He declined to comment on the Kohberger case or say whether his office would consider getting involved.
"We do not confirm or deny whether we have an investigation into specific cases," Hurwit said by phone.
A handful of other Idaho inmates have been convicted of three murders. Among them are Robin Row, Adam Dees and Paul Rhoades.
Row, 65, the only woman on Idaho death row, was convicted of murdering her husband and two children in a fire at their Ada County home in 1992. Two of her prior children also died under suspicious circumstances in other states, but she was never charged in either case.
Dees, 30, agreed to plead guilty to the first-degree murder of three members of a Boise-area family during a 2015 robbery. In exchange, he avoided the death penalty and was sentenced to three life sentences without the chance of parole.
Rhoades was convicted of three 1987 murders, in Blackfoot and Idaho Falls. He also was suspected in Utah and Wyoming in four other homicides, but never charged. Idaho executed Rhoades by lethal injection in November 2011 at age 54.
In addition, Chad Daybell faces three first-degree murder charges in his forthcoming trial out of Rexburg. He has pleaded not guilty to all charges and faces the death penalty. His wife, Lori Vallow Daybell, faces two first-degree murder charges in her separate case, which is ongoing in Boise, but does not face the death penalty after the judge pulled the potential sentence as part of her expedited trial.
'Lethal injection is the first choice'
Until House Bill 186, the new firing squad law, goes into effect this summer, lethal injection is Idaho's only permitted method of execution. Bill sponsors, and Idaho Attorney General Raúl Labrador who helped draft the legislation, sought to provide the state with another method after officials were unable to carry out Pizzuto's scheduled execution in December.
Prison officials have said they've been unable to obtain the drugs needed to perform a lethal injection. In recent years, efforts by anti-death penalty groups to convince drug manufacturers and pharmacies to avoid selling the chemicals to state prisons have been effective, Idaho Deputy Attorney General LaMont Anderson said in public testimony last month during a Senate hearing on the firing squad bill.
In effect, Idaho no longer had the ability to enforce death sentences, said Anderson, who heads the office's capital litigation unit. The bill's sponsors, Rep. Bruce Skaug, R-Nampa, and Sen. Doug Ricks, R-Rexburg, argued the same in building support for the state relaunching firing squad executions. The method previously existed in Idaho as a backup from 1982 to 2009, but the state never executed an inmate by firing squad.
"Idaho currently does have a capital punishment law, and we effectively cannot carry that out because we cannot obtain the drugs," Ricks said during the March hearing, identifying the state's eight-member death row. "And currently Idaho has a couple of real high-visibility murder cases that you might know pending in Moscow and Rexburg that could be affected by this eventually, too."
The new law dictates that the director of the state prison system must decide within five days of the issuance of a death warrant whether the inmate will be executed by lethal injection, or firing squad if the required drugs are unavailable. Lethal injection remains Idaho's preferred method, Skaug told the Statesman in an interview.
"Lethal injection is the first choice," he said, acknowledging a firing squad may never be necessary. "That could happen, but I believe it will occur — more likely than not. I believe it's going to happen."
The Idaho Department of Correction is in the midst of establishing the state's policies for executing an inmate by firing squad, department spokesperson Jeff Ray told the Statesman by email. Those then will need to be approved by the state prison system's three-member board.
The department also plans to spend an estimated $750,000 to remodel a cell block at the Idaho Maximum Security Institute, where death row inmates are held, so firing squad executions can take place. There is no planned completion date for that construction, Ray said.
"We do not have a timeline," he said. "In the weeks to come, we will be consulting with other states, reviewing their procedures and developing a protocol that assures the process is carried out with respect, dignity and professionalism."
Kohberger's preliminary hearing is scheduled to start in Latah County District Court on June 26.
—
©2023 The Idaho Statesman.
Visit idahostatesman.com.
Distributed by Tribune Content Agency, LLC.
McClatchy-Tribune News Service