Sheriff David Clarke not joining DHS, after all
A DHS spokesman said that Sheriff David Clarke is no longer being considered for a position within DHS
---
Associated Press
MILWAUKEE — The Department of Homeland Security says Milwaukee County Sheriff David Clarke is no longer a candidate for a position in the agency.
The conservative firebrand said last month he was taking a job as an assistant secretary at the DHS, but the agency declined to confirm the appointment, saying it announces such senior appointments once the DHS secretary makes them official.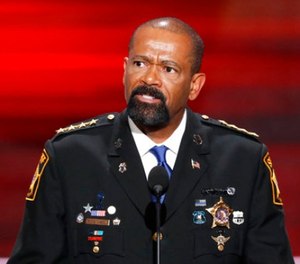 Craig Peterson, a political adviser to Clarke, said in a statement that the sheriff notified DHS Secretary John Kelly late Friday that he "had rescinded his acceptance of the agency's offer" to join the department. The Washington Post first reported on Clarke's decision.
The tough-talking Clarke, who is known for his provocative social media presence, is an outspoken supporter of President Donald Trump. According to Peterson's statement, Clarke said he "is 100 percent committed" to Trump's success and that he "believes his skills could be better utilized to promote the President's agenda in a more aggressive role."
Clarke is "reviewing options inside and outside of government," the statement said.
A DHS spokesman said by email Sunday that Clarke is no longer being considered for a position within DHS.
Clarke has drawn a considerable amount of controversy as Milwaukee County sheriff.
He was hit by allegations last month that he plagiarized content in his master's thesis on homeland security, which he denied.
Seven workers at the county jail he oversees are at the center of a criminal investigation into the dehydration death last year of an inmate who prosecutors say was deprived of water as punishment. Clarke isn't among the seven staffers — prosecutors said he wasn't directly involved in the events that led to the death of 38-year-old Terrill Thomas — but the death happened under Clarke's leadership, which his critics say is enough cause for his firing.