Critics: Deadly year for NC prison workers shows need for better security
Once every eight hours, on average, a North Carolina prison officer was assaulted last year
---
By Ames Alexander, Fred Clasen-Kelly And Will Doran
The Charlotte Observer
ELIZABETH CITY, N.C. — The deaths of two North Carolina prison employees Thursday – coming just six months after a third employee's death – should shine light on unsafe working conditions within the state's prisons, the group representing state employees said Friday.
Working inside the prisons has long been a dangerous job. Once every eight hours, on average, a North Carolina prison officer was assaulted last year.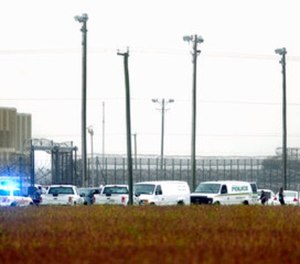 But 2017 is shaping up to be particularly deadly.
Justin Smith, a prison officer, and Veronica Darden, a manager at Correction Enterprises, died Thursday at Pasquotank Correctional Institution in Elizabeth City. The sheriff says he believes inmates set a fire and attacked the prison workers during an escape attempt.
At Bertie Correctional Institution, about 60 miles to the southwest of Pasquotank, prison Sgt. Meggan Callahan was killed in April. Authorities say an inmate there set a fire in a trash can, then beat Callahan with the fire extinguisher that she had brought to douse the flames.
Prior to April, it had been seven years since the last North Carolina prison officer died as a result of an inmate assault.
Ardis Watkins, the head lobbyist for the State Employees Association of North Carolina, said she and other association officials asked lawmakers to act after Callahan's death to improve working conditions in prisons, mostly by offering better salary and benefits so that hard-to-fill jobs wouldn't remain empty.
In the months since then, however, there has been no action, she said.
"You're hearing about things like one officer who has 120 inmates he's accountable for," Watkins said. "We said this so much after Sgt. Callahan was murdered. This is going to keep happening."
Interviews and 911 recordings suggest that the employees at Pasquotank were killed as four prisoners attempted to escape. Inmates beat prison employees with hammers and stabbed them with scissors, according to one prison worker who called 911 Thursday.
Pasquotank County Sheriff Randy Cartwright told the Observer that he believes inmates had a plan to escape – and to harm prison employees in the process. He also believes they started the fire as a diversion, he said.
The SBI and FBI are helping local law enforcement officers with the investigation. No criminal charges have yet been filed.
Staffing shortages
Bertie Correctional was understaffed in the month that Callahan was killed.
State figures show that in April, when Callahan died, roughly one of every five correctional officer positions at the eastern North Carolina prison was vacant.
It's unclear how well-staffed the Pasquotank prison was when the employees were killed. But state data suggest Pasquotank had even bigger staffing problems than Bertie last year.
In 2016, more than 28 percent of officer positions at the prison were vacant. The vacancy rate there was second highest among the state's 55 prisons.
Training for prison workers needs to be improved, too, Watkins and others say.
"It is going to take a big infusion of money from the General Assembly, along with the (Cooper) administration, to get this training done," Watkins said.
On Friday, Gov. Roy Cooper met with Public Safety Secretary Erik Hooks and state prison leaders to discuss the latest attacks. Cooper said that he had directed state prison officials to take immediate steps to improve safety, including increasing the number of officers in areas where inmates work, suspending the prisoner work program at the site of the attack, and ordering a safety review of all inmate work programs.?
The Department of Public Safety said it had begun a complete search of Pasquotank by 100 Prison Emergency Response Team members to look for evidence and unrelated contraband at the facility.
"We are all shocked and horrified by this violent attack on prison employees and our thoughts continue to be with the victims and their loved ones," Cooper said. "While we are grateful for the officers' work to prevent the inmates' escape, we know our prisons must be made more secure, including for those who work there."
Staff shortages aren't the only problems that endanger officers and inmates. A recent Charlotte Observer investigation found that a hidden world of drugs, sex and gang violence thrives inside North Carolina's prisons – and that some officers who are paid to prevent such corruption are instead fueling it.
State officials have pledged reforms, but critics say they haven't come quickly enough.
'I'll have to fight'
Authorities say the incident at Pasquotank began around 3 p.m. Thursday when inmates set a fire in the prison's sewing plant, where about 30 inmates make embroidered logo items, safety vests and other items for government agencies and nonprofits.
Recordings of 911 calls made from the eastern North Carolina prison provide a glimpse into the chaos that unfolded Thursday afternoon.
Fearing for his safety in a locked room, a worker at the prison told a 911 dispatcher at least three prison officers had been beaten with hammers and stabbed with scissors. Inmates were running loose and a fire was burning.
He said he had grabbed a hammer and was prepared to defend himself.
Another caller said she was in a locked room near a loading dock, and that she could see through a window that at least one officer was alive, but injured.
"I don't know if he was attacked with a hammer or screw driver," she said. "He was attacked with something."
Another caller reported that at least three officers were down and that he believed they had been attacked with hammers and scissors. He said he was in a locked room in the maintenance department, close to the mayhem.
"If they start coming in here, I'll have to fight," the caller told the dispatcher.
At one point, the caller could be heard telling someone else that they need to be prepared to protect themselves.
"We all need to get together and be ready to fight," the man said. "I've got me a hammer out. I'm ready."
'Willing to give their lives'
Smith, 35, provided security in the sewing plant, and Darden, 50, supervised inmates working in the plant.
Darden's family still doesn't know how she died, her husband, Eric Darden, said Friday. Authorities have not shared details with relatives, who remain stunned, he said.
"I cried all night long," said Eric Darden, 49, Veronica's husband of nine years. "I was hollering and talking to her."
Veronica Darden worked in the prison system for 10 years, he said, and was proud of her work. Eric Darden said he worried about his wife's safety at the prison. But he said his wife never complained to him about working conditions there.
Veronica Darden and her husband raised three children, who are now in their 20s.
"She was loved by everyone," Eric Darden said. "She loved her job."
At a news conference on Friday, N.C. Deputy Director of Prisons Annie Harvey noted that prison officers don't get the same respect that most law enforcement officers receive – even though they, too, put their lives on the line.
"You have professionals who work in these facilities who are willing to give their lives to make it safe for the public," Harvey said. "And that's what these employees did."
©2017 The Charlotte Observer (Charlotte, N.C.)