MDOC's Diversity, Equity, Inclusion manager breaks down barriers, builds bridges
Roy King's message of equity helps people feel at ease during hard conversations about race and racism
---
By Anna Black
"I grew up in a predominately white community. It wasn't a bad place to grow up, but there were many moments we had unpleasant and standoffish interactions with others in the community," said Roy King, Manager of Diversity, Equity, Inclusion for the Maine Department of Corrections (MDOC).
Yet, growing up in the '70s and '80s with few other Black families in a small northeast community taught him a skill he says prepared him for work as a correctional officer.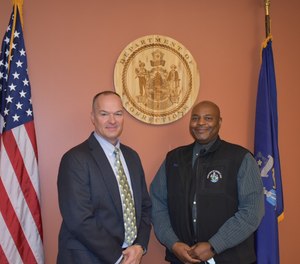 "My parents instilled in myself and my siblings the importance of adaptability. They helped us learn to get comfortable among diverse personalities and adapt to constantly changing situations, and they showed us the necessity of adjusting our view or approach when dealing with people and situations," said King.
Reducing racial tensions
King started as a corrections officer in 2012, first assigned to the high-security unit of the Maine Correctional Center. It was a tough environment. Thirty-two men on the unit, mostly white, dysregulated, angry; there were regular fights, cutups and manipulation, with guys with visible "white pride" tattoos who directed nasty racial comments at King.
However, Officer King, the only Black officer assigned to the unit, didn't let the environment harden him. Rather he drew on that ingrained sense of adaptability his parents had instilled in him, along with his martial arts training, and slowly started to let his confident, calm disposition permeate the unit.
King believed that to help the men in this unit learn to regulate, he needed to stay regulated too and show them by example. So, when a resident hurled a racial slur at him, he responded with the respect he wished that resident would show him: "I thought, maybe I'm the first Black man this resident has ever interacted with. And if that's the case, I'm going to lead him through a positive interaction."
King became known as an officer who could reduce racial tensions among residents because, as he is known to say, King likes to treat people like people. King's shift commander took note of how he was calming a tense unit and it wasn't more than a few years after he started in corrections that he was asked to meet with cadets, teaching them to be adaptable to changing environments, just like his father had taught him so many years before.
When he thinks back on those first few weeks standing in front of a class of cadets he swells with pride: "I helped set the tone for how residents would be treated at the Maine Correctional Center. How do we fix a perceived wrong? We ensure there's equity in who gets to speak about the wrong and equity in who listens."
King's lessons stressed the importance of de-escalation, communication, empathy and techniques to change perceptions. What he didn't realize at the time was that he was paving the way for his future role within the Maine Department of Corrections.
A commissioner committed to positive change
It wasn't more than a few days after Randall A. Liberty was appointed Commissioner of Maine's Department of Corrections by Governor Janet Mills that he started thinking about addressing the issues of racism and diversity inside the State's seven correctional facilities. Having served as warden of the Maine State Prison for the proceeding four years, he saw the way hate speech and hate-based actions impacted the lives of residents and staff at Maine's largest prison.
"Ignoring injustice is compliance, and I wasn't going to accept it," Liberty says about why he, in his early days as commissioner, pushed for improvements in the department's handling of issues of diversity, equity and inclusion. "We have a duty to treat others with respect," said Liberty, who prior to corrections served in law enforcement for 32 years.
During his time in policing, he participated in a spattering of training on implicit bias and diversity. What he found was that more often than not, officers were engaged with the material at the moment, maybe even made immediate changes, but that the dynamic shift in individual and group thinking that was needed to bring about lasting change often didn't happen. As a former sheriff and a military leader, he knew there was a way to force compliance among staff, but as a devout Christian, Liberty knew that forcing people wasn't the same thing as getting them to accept change. He wanted people to welcome change and be affected by teachings associated with diversity, equity and inclusion.
When Liberty was appointed Commissioner, he knew he finally had an opportunity to bring to life a vision for a new model of corrections, one rooted in mutual respect and inclusion, not just for residents, but staff too. When he served as Warden of the Maine State Prison, Liberty had heard about Officer King at the Maine Correctional Center, two hours south from his post at the Maine State Prison, who was changing perceptions by skillfully deescalating racial tensions in units by teaching staff and residents about microaggressions.
Liberty knew that King's message of equity and his ability to help people feel at ease during hard conversations about race and racism made him the right candidate to steer Liberty's vision of a new model of corrections, one that creates allies, demonstrates inclusion, celebrates diversity and doesn't shy away from the challenges of embarking on such a journey.
"Roy King's greatest strength is that he has unequivocal empathy and that he manifests positive energy in others," said Scott Landry who was the warden of the Maine Correctional Center when King worked in the facility. When Liberty called to talk with Landry about tapping King to be MDOC's first-ever Diversity, Equity, Inclusion manager, Landry agreed, Roy King was the right person for the job.
Spreading the message of diversity, equity and inclusion
As MDOC's Diversity, Equity, Inclusion Manager, Roy King regularly conducts training on creating regulation and resilience, implicit bias, cultural diversity, microaggression and de-escalation techniques. He hosts round table discussions with residents inside secure units about race, implicit bias and gender discrimination. Often residents write him letters, asking him questions about how to engage in conversations with other residents who have vastly different views and backgrounds. When appropriate King will follow up in person with the resident, a true example of the respect he preaches and practices.
He puts out a monthly newsletter on diversity, equity and inclusion, hosts a diversity film event for residents, and co-created a diversity speaker series for staff, bringing in guests representing unique backgrounds.
King is often called in to mediate difficult conversations, sometimes between staff, sometimes between residents, and sometimes between staff and residents. He looks at these moments as opportunities to empower others to adapt to discomfort and talk through tough topics such as perceived discrimination, whether based on gender, race, religion, or sexuality concerns.
"It's about normalizing the process," said King. "The more people interact in a positive way, the more normal it becomes."
In a moment of reflection about those challenging conversations and moments when the hate between people is palpable, King notes, "We're challenging the status quo, we're trying to transform a negative belief that may be decades old. It's going to take time. But when the perception does change, and you see someone who has a bias move forward and deal with their fear, it feels good."
As King charts his next year in the position, he has two goals: train all staff in implicit bias and cultural diversity and train all residents in implicit bias and cultural diversity. Doing so, King believes will remove the invisible issues, while increasing mutual respect.
These goals align well with Commissioner Liberty's vision for his department. Liberty and his deputy, Ryan Thornell, are able to set into motion a new model of corrections, one grounded in foundational principles of humanization by emphasizing stigma reduction and modernizations to units and facilities that help transform the culture, in large part because of the work King is doing. This new model of corrections in Maine seeks to ensure residents see fewer barriers as they meaningfully engage with rehabilitative-focused services. King's work is integral to the new model. "He's helping this department adapt to a better way of doing things," said Liberty.
Roy King's recommended readings
Language matters
MDOC is leading the way in changing language as a way to reduce stigma
Instead of:
Prisoner
Drug addict
Sex offender
Indians
Hispanics
Try using less stigmatizing words:
Resident
Person with Substance Use Disorder
Person with problem sexual behavior
Indigenous, Native or tribal populations
Latinx/Latino(a)
NEXT: Maine DOC to better harness correctional data to improve outcomes
---
About the author
Anna Black is director of government affairs and spokeswoman for the Maine Department of Corrections.