Rikers Island sick-call staffing crisis ongoing, court-appointed monitor says
More than 1,400 officers a day are listed as out sick on any given day
---
By Graham Rayman
New York Daily News
        
NEW YORK — Conditions in city jails and the ongoing staffing crisis have not improved and in some ways are worse under Mayor Adams' new administration, says a report from a monitor appointed by a federal court.
The Correction Department under Commissioner Louis Molina has yet to resolve the correction officer staffing crisis, and safety and security remain major problems, says the report by court-appointed monitor Steve Martin and his staff.
Martin's report says that more than 30% of the uniformed staff remains out sick or unavailable to work with detainees, with little change evident compared with August 2021.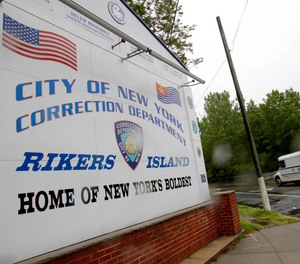 More than 1,400 officers a day are listed as out sick on any given day and the number of officers on medically restricted duty has skyrocketed 150% from 285 in 2020 to more than 700 a day this year, the report said.
Meanwhile, accountability for staff who abuse the system is limited and infrequent, the monitor reported.
"Few if any gains have been made in returning staff to work, as a significant portion either do not report to work or are on a modified status that does not allow them to work directly with incarcerated individuals," the report said.
Though Molina has touted the return of more than 1,000 officers to work between December and January, the increase merely returned the number of available staff to August 2021 levels — which were already at a crisis point, the report said.
The report also says Correction Department record-keeping is so "shoddy," it can't accurately say where a staffer is supposed to be assigned or what their duty status is.
Instead of prioritizing essential posts that must be filled, the report says, the department prioritizes filling nonessential assignments.
"This is simply unheard of in a correctional setting," the report said. "The dysfunction is so profound and pervasive that even a basic post analysis identifying where staff should be and when is impossible to conduct."
The problem isn't money — the department has a $1.25 billion budget and more than 7,900 officers for about 6,000 detainees, making it much better funded and staffed than any other municipal jail agency in the country, Martin's report said.
"Despite the bloated size of its workforce and its extraordinary budget, the agency has not seen an appreciable improvement in the appalling conditions of confinement," the report said.
Meanwhile, Molina abruptly began blocking the monitor's access to key staffing data and other information on Jan. 26 — and to date, the Correction Department hasn't given the monitor a briefing on safety and security, the report said.
The monitor also indirectly mentions Molina's firing of Sarena Townsend, DOC's deputy commissioner for trial and investigations, saying a level of cooperation and information sharing that existed under Townsend has evaporated.
Correction Department officials tried to block the monitor's staff from speaking with Townsend's replacement, Yvonne Pritchett, said the report.
"The lack of open and transparent communication and information is deeply troubling," the report said.
Stabbings and slashings continue, and the rate of violence is seven to eight times higher than in other jail systems, the report said. There were 48 knife attacks in January alone, the second-highest number since 2015.
The monitor believes Correction Department needs an outside security specialist to run the system — but nothing has happened in the 10 months since the monitor first made that recommendation.
The monitor also recommended a crackdown on absenteeism.
The Correction Department released a statement Wednesday claiming a series of successes under Molina. Assaults on staff and uses of force are down, the agency claims. More searches are being conducted, with more than 100 weapons found.
The agency also claims to have "broken up" gang-affiliated housing.
"Even before joining DOC in January, I was well aware of the history of problems facing the department. We must do better, and we can do better. We are moving forward as swiftly as possible to fix longstanding issues," Molina said.
©2022 New York Daily News.
McClatchy-Tribune News Service