'This is leadership': What public safety leaders can learn from Ukrainian President Zelenskyy
The best leaders continually study leadership principles so they can adapt their responses to various situations and crises
---
The actions and statements of Ukrainian President Volodymyr Zelenskyy have filled my social feeds with "This is leadership" reaction posts from public safety leaders. Many point to Zelenskyy's statements to defend Ukraine from the Russian invasion and take up arms to fight rather than flee the country as evidence of his strength and capacity as a leader.  
I have not studied Ukraine, Ukrainian politics or history, and I know little about Zelenskyy's path from comedian and actor to being elected president in 2019. I do know, though, that a crisis can bring out the best and the worst in leaders, and Zelenskyy appears to be rising to the challenge of leading his country while it is under attack.  
As we follow the news from Ukraine and examine the leadership traits of Zelenskyy, as well as U.S. President Joe Biden and Russian President Vladimir Putin, here are a few of my thoughts about everyday leadership: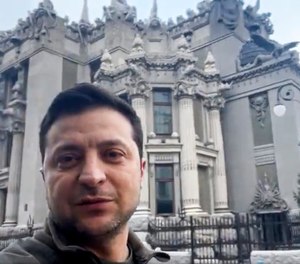 Leaders come from every rank and role. Zelenskyy was an entertainer who chose to serve and is now thrust onto the frontline of a global conflict. Don't wait to be anointed or chosen. Look for opportunities to lead your team, company, squad, unit, or department.  

Leaders rally others to a cause. Though your leadership opportunity might not be the defense of freedom from aggression, it's important to lead others toward a cause or mission, rather than the completion of a task.  

Leaders speak honestly and candidly. The leaders I've admired most tell it like it is. They don't sugarcoat the details, gloss over flaws or mistakes, or tell a story inconsistent with objective findings. Instead, they are honest to a fault.  

Leaders adapt to conditions on the ground. Zelenskyy has rapidly adapted from his country's chief executive to advocacy for peaceful resolution to a wartime president inspiring and commanding his nation's army and armed citizenry. The best leaders constantly adapt to changing conditions with new tactics while staying true to the cause or mission.  

Leaders do what they are asking others to do. A true leader walks the talk. Zelenskyy has received worldwide praise because he is staying to fight, just as he has asked Ukrainian citizens, rather than fleeing to rule in exile. Leaders' actions match their words and beliefs.  

Leaders take risks but aren't reckless. Zelenskyy's wardrobe has changed from suit and tie to tactical gear since Russia's invasion. He is taking a significant risk to stay in Ukraine, even recording and broadcasting messages to the world from a smartphone, but we don't know about the ongoing risk-benefit analysis or the precautions outside of the camera frame.  

Leaders put others first. The leaders we memorialize for generations built their legacy by prioritizing the needs of the most vulnerable. Our most revered leaders fought for the people most in need of representation, advocacy, compassion and empathy.  
It will be years before biographers and historians tell us if President Zelenskyy truly rose to the challenge and led with the finest of traits. Until then, true leaders don't just admire leadership in others; they are students of leadership who constantly study leadership, learn from others and evolve their leadership philosophy. Whose leadership are you studying, what are you learning, and how are you growing as a leader?