W.Va. advances bill to raise CO salaries by $6K
The current $24,664 starting salary for COs has led to high turnover, staff shortages, and mandatory overtime
---
By Phil Kabler
The Charleston Gazette, W.Va.
CHARLESTON, W.Va. — As the House Finance Committee began work Monday on Gov. Jim Justice's proposed legislation to increase salaries for correctional officers at West Virginia prisons, regional jails and juvenile facilities by $6,000 over three years, one sticking point came up.
As drafted, funding for the increased regional jail salaries — $7.8 million a year when fully phased in — could end up coming from increased per-diem charges to counties for housing inmates.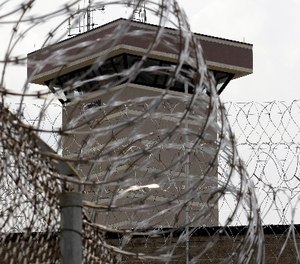 That could increase per-diem costs, currently $48.25 per day per inmate, by more than $4 a day, state Director of Correctional Operations Joe Thornton told the committee.
Many smaller counties are struggling to pay the existing per-diem rate, delegates noted.
Ultimately, committee members voted to advance House Bill 4142 to the full House of Delegates, despite the potential funding issues.
Justice proposed the three-year, $2,000-a-year salary increase to address a personnel crisis in state corrections, where the current $24,664 starting salary for correctional officers has led to high turnover, staff shortages, and mandatory overtime.
In December, Justice signed an executive order declaring a state of emergency in the corrections system and authorizing National Guard members to provide support at state prisons and regional jails.
Thornton said increasing the starting salary to just over $30,000 a year would make West Virginia salaries competitive with correctional facilities in Kentucky and Virginia.
"We're in dire straits," he said. "I think it's a game-changer, I really do."
Delegate Brent Boggs, D-Braxton, said it's imperative to increase correctional officers' pay, to attract and retain quality employees, saying the current hourly wage is not much higher than pay at fast-food restaurants.
"For the responsibilities they have, it's an embarrassment," he said.
Also Monday, the House Finance Committee received budget reports from the state treasurer and secretary of state. Some highlights:
The Secretary of State's Office has about a $600,000 balance in the $3.3 million appropriation for the costs of holding the statewide referendum election on Justice's "Roads to Prosperity" bond issue last Oct. 7, Chief Financial Officer John Sandoro said.
However, he said six counties have yet to file for reimbursement for the costs of holding the elections.
"I think it will be pretty close to the $3.3 million," he said. "I don't think it will run over."
Considering that 120,510 votes were cast in the referendum, that works out to $412.83 per vote.
Sandoro said the costs of statewide elections aren't affected, up or down, by voter turnout.
"Your pollworkers have to be there all day, regardless," he said. "They don't get paid extra if there are extra votes."
The Treasurer's Office is asking to continue a $150,000 one-time appropriation from the current budget year to gear up operations for the West Virginia ABLE program, part of a national program that allows people with disabilities and their families to set up savings accounts to help offset their living expenses.
Deputy Treasurer Josh Stowers said part of that funding would be used to have one Treasurer's Office employee assigned to the program full-time.
"We really need one person to stay on top of it," he said. "We feel, for the $150,000 investment, it really does pay off."
The savings accounts could be used to offset expenses for housing, transportation, employee training and support, personal services and health care expenses.
©2018 The Charleston Gazette (Charleston, W.Va.)