S.C. nears approval for concealing identity of lethal injection drug manufacturer
Along with hiding the name of the sellers of drugs, the bill also keeps the names and normal jobs of the members of the execution team from the public
---
By Jeffrey Collins
Associated Press
COLUMBIA, S.C. — After an unintended 12-year moratorium on the death penalty in South Carolina, the state House gave key approval Wednesday to allow the name of any company that sells lethal injection drugs to remain secret, as well as members of the execution team.
A shield law has already passed the Senate, and if the two bodies can work out their minor differences, the proposal will head to the desk of Gov. Henry McMaster, who has been adamant about restarting executions with several inmates having reached the end of their appeals.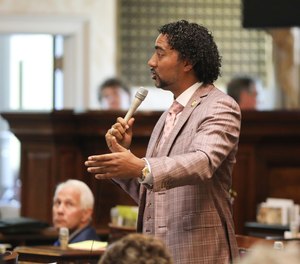 Supporters said the bill isn't about a debate on whether the death penalty is moral.
"The Department of Corrections has been unable to carry out lawfully imposed sentences. The families of the victims cannot get closure," Republican Rep. Weston Newton said.
Opponents said hiding any part of the state-sponsored death of an inmate is wrong.
"We want to be able to throw the rock and hide our heads," Democratic Rep. Jermaine Johnson said.
Rep. Will Wheeler said South Carolina is willing to set aside principles to resume executions.
"Don't tell us about it. We don't want to know about it," Wheeler said. "Just bring out a dead body."
Sixteen states have carried out nearly 100 lethal injection executions in the past six years. Many have shield laws. Some do not.
For several years, South Carolina has tried to find a way to carry out executions after the state's supply of lethal injection drugs expired and they could not find a pharmacy willing to sell them more.
Two years ago, the General Assembly passed a law creating a firing squad and giving inmates a choice between dying by bullets to the heart or in the state's electric chair, which was first used to kill an inmate in 1913.
That law is on hold as a court considers a challenge by death row inmates who say both the firing squad and electric chair are constitutionally prohibited cruel and unusual punishments.
South Carolina currently has 34 inmates on death row. At the end of 2011 after the last execution took place, the state had 52 death row inmates. Only three prisoners have been sent to death row during that time. Several prosecutors said they are less likely to seek the ultimate punishment without assurance the state can carry it out. The rest have left death row either through sentences reduced by appeal or natural deaths.
The bill that got key approval on a 75-21 House vote Wednesday adds criminal punishment and a possible prison sentence of up to three years for anyone who releases information that is supposed to be kept secret. It also bans any legislator or their families or businesses from providing any drugs or equipment needed for executions.
Those and other small differences will need to be worked out with senators, who said they thought those would not be high hurdles.
Along with hiding the name of the sellers of drugs from the public and from state accountants, the bill also keeps the names and normal jobs of the members of the execution team from the public.
The bill also requires the state Department of Corrections to share autopsy results from inmates killed by lethal injection with their attorneys.
The drugs bought by prison officials must be approved by the U.S. Food and Drug Administration. The qualifications of any medical professionals involved in the execution would be published and they must be fully licensed and certified.
Democratic Rep. Justin Bamberg said the shield law isn't needed because South Carolina could wait and see if the courts find the firing squad legal. Or it could find a different way to handle lethal injection.
"This is the complete opposite of honesty so we can find an expedient solution to a seemingly insurmountable problem that does have a solution," Bamberg said. "We just haven't done the work to find it."