Silent no more: Officers need a lifeline, too
Treatment is available to help responders struggling with mental health disorders and substance use
---
By Liz Barton
After retiring from a long career as a police officer, my grandfather died by suicide in 2012.
My grandfather wasn't the only one I watched suffer in silence. Growing up as a multi-generational police officer's daughter, and being married to a firefighter, I witnessed firsthand the devastating effects being a first responder can have on the brain. I watched as my loved ones and family friends battled depression, anxiety, PTSD, alcoholism, substance use disorder and, for my grandfather, suicide. After his death and the death of a close family friend, I knew I could no longer be silent.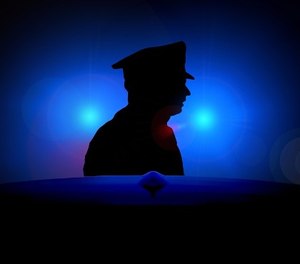 I'm now an advocate for first responders struggling with mental health and substance use disorder. Every day, I get to help someone find healing as the national administrator for first responder services for American Addiction Centers. I also travel around the country working with law enforcement agencies to bring these issues to the forefront. My message: It's OK to not be OK – but it's not OK to live in silence.
Responders still afraid to seek help
According to the National Alliance on Mental Illness, nearly one in four police officers has thoughts of suicide at some point in their life. In fact, more police officers die by suicide than in the line of duty.
It's easy to understand when you consider most officers and other first responders experience more trauma in a single day than most people will experience in a lifetime. Despite this, I've found first responders are afraid to come forward and get help because they fear people will look down on them or they could lose their weapons and jobs.
Over the last several years, we've seen advancements in the policies and procedures for law enforcement agencies nationwide. But until we get to the point where officers do not fear repercussions for reaching out for help, there's still much to do. For example, I would like to see every agency have a health and wellness committee and offer continuing education for officers around mental health.
Signs and symptoms of a mental health concern
We must continue to raise awareness about the early warning signs of a mental health concern. Those signs can include, but are not limited to:
Lack of sleep/nightmares;
Sudden relationship issues;
Increase in reckless behaviors;
Loss of appetite;
Lack of self-care;
Anger/rage/change in personality;
Isolation;
Loss of interest in activities;
Increased alcohol consumption or substance use as a coping mechanism.
Some first responders mistakenly believe these symptoms will get better over time. The reality is that they typically only get worse. The data shows the sooner you can get help after a traumatic event, the better the outcome. Unfortunately, officers are waiting too long to get help and it's leading to an increased risk for substance use and addiction. And for some people like my grandfather, it becomes too much to bear and ends in death by suicide.
Reaching out for help
The good news is there is help. Taking the first step can include reaching out to a peer support team or chaplain, connecting with an EAP program, or contacting a confidential helpline. American Addiction Centers operates a 24/7 confidential law enforcement helpline at 855-997-6542.
What my family endured was heartbreaking. If I can help even one officer from going down that path, then I will continue to speak out and raise the alarm. This is my life's calling and my way of honoring my family's legacy.
---
About the author
Liz Barton is a trained first responder addiction specialist and mental health champion. Liz works alongside Responder Rescue in St. Louis, Missouri, and HERO (Helping Emergency Responders Overcome) program, which offers confidential counseling for first responders and their families as well as support groups. Liz also works and advocates alongside many law enforcement organizations to support officer mental wellness. In 2014, she joined American Addiction Centers and eventually assumed the role of national administrator of first responder services. Liz also advocates for first responders on the legislative level. She has written several bills and lobbied to Congress to adopt laws accepting PTSI as a work-related injury under workers' compensation.