Inmate serving sentence in US terror plot stabbed Calif. warden
Fazliddin Kurbanov allegedly stabbed the warden at the federal correctional facility in Victorville, California, in 2016
---
By Michael Balsamo 
Associated Press
LOS ANGELES — An Uzbek refugee serving 25 years behind bars for a plot to kill U.S. military personnel or civilians has been charged with stabbing the warden at the California federal prison where he was serving his sentence, prosecutors said Thursday.
Fazliddin Kurbanov, 34, was indicted Wednesday on charges that included attempted murder of a federal officer. Kurbanov is accused of using a homemade knife to attack the warden at the federal correctional facility in Victorville, California, in May 2016, according to prosecutors.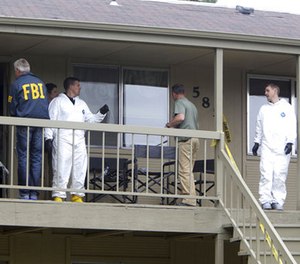 The warden, Calvin Johnson, was seriously injured but has since recovered, prosecutors said. He now works at another Federal Bureau of Prisons facility.
Kurbanov was convicted last year of conspiring and attempting to provide material support to a designated foreign terrorist organization and possessing an unregistered destructive device.
Prosecutors said the Russian-speaking truck driver who fled Uzbekistan in 2009 had downloaded jihadist and martyrdom videos from a terrorist website and communicated with a terrorist organization, the Islamic Movement of Uzbekistan. Authorities monitored his communications and arrested him in 2013.
Kurbanov bought bags of fertilizer and other bomb-making materials and had an unwavering commitment to kill personnel at a military base or civilians at crowded Fourth of July celebrations in downtown Boise, Idaho, authorities said.
He also discussed targeting the West Point Military Academy in New York, according to prosecutors.
Kurbanov had maintained his innocence in the case.
At his January 2016 sentencing, he told a federal judge, "I've never been a terrorist."