Neb. prison cell doors suddenly open, sparking fracas
The inmates were ordered to stay in their cells but left the cells anyway, entered the gallery and refused to return
---
By Associated Press
TECUMSEH, Neb. — The doors on 16 cells at a prison that has a history of riots unexpectedly opened Friday, leading to one inmate being attacked and seriously injured and a fire set inside the prison, Nebraska prison officials said.
The Nebraska Department of Correctional Services said in a statement that the doors at Tecumseh State Correctional Institute are operated by a computerized system and that the cell doors were mistakenly opened around 10 a.m. Friday. Officials say the cause of the error is under investigation.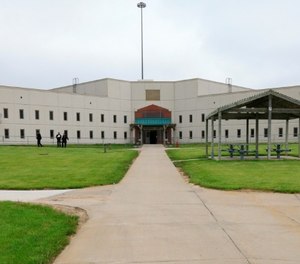 The inmates were ordered to stay in their cells, officials said, but they left the cells anyway, entered the gallery and refused to return. One inmate was assaulted by one or more of the others and was seriously injured. The injured inmate was removed from the gallery and was taken to a Lincoln hospital, where he was in stable condition Friday afternoon. Another inmate also received minor injuries, but the cause of his injuries hadn't been determined by Friday afternoon. No prison employees were injured.
Prison staff used pepper spray to clear the gallery, but the inmates continued to resist and started a fire in one of the cells, the release said. The fire was contained to the one cell, and the prisoners were returned to their cells a short time later.
The prison has a troubled history. Last year, two of the prison's inmates were killed and others were injured in a riot that included a prison courtyard fire. That riot happened in the same housing unit where two other inmates were killed during a May 2015 uprising that caused about $2 million in damage.
The riots and other incidents, such as attacks on prison staff, have led lawmakers and other officials to scrutinize Nebraska's prison system. The Legislature this year passed a package of bills designed to address the state's chronically overcrowded prison system and understaffing. That included a July 1, 2020, deadline to lower overcrowding from 160 percent to 140 percent of capacity.