NY inmates revolt, take over housing unit for 4 hours
A source inside the sheriff's Jail Management Division said the inmates took control by forcing out the CO stationed there
---
By Matthew Spina
The Buffalo News, N.Y.
        
ALDEN, N.Y. — Inmates took over a unit at the Erie County Correctional Facility for more than four hours Monday night, barricading the doors to block deputies and corrections officers from retaking the floor.
Prison officers regained control of the unit just before 10 p.m. Monday, Sheriff Timothy B. Howard's team said in a statement.
The Sheriff's Office said that around 5:30 p.m. Monday, about 38 of the 42 inmates in the unit refused to comply with the nightly lock-in order after their evening meal. A "quick-entry team" was assembled but the inmates, protected by barricaded doors, did not comply with the order until around 9:40-9:45 p.m., the Howard team said.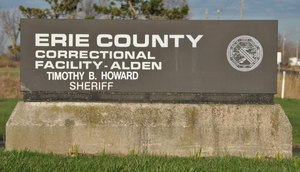 As the inmates locked themselves into their cells, the prison personnel retook the floor. No corrections officers or deputies were injured, the Sheriff's Office said.
A source inside the sheriff's Jail Management Division, who asked to remain unidentified because he is not authorized to speak publicly, said the inmates were in the Delta unit, and they took control by forcing out the corrections officer stationed there.
The source said that in response, the sheriff's SWAT team was activated, and inmates at the Erie County Holding Center were locked in so deputies at the county jail in downtown Buffalo could respond to the situation at the Correctional Facility in Alden.
The Sheriff's Office said it gave preliminary notification of the incident to the state Commission of Correction, the agency that regulates local jails and wants to know about inmate disturbances, among other things. Further, the Sheriff's Office said the inmates involved face administrative charges.
The Jail Management Division's past reports to the Commission of Correction indicate that the Correctional Facility in Alden grew increasingly tense in recent months as inmates were locked in for longer periods as a response to Covid-19.
One afternoon in January, for example, officers at the Correctional Facility saw water rushing from an inmate's cell and down the stairway that led to it. "You all made me do this ...," the inmate yelled, "keeping me locked in," according to the county's report to the state agency.
While bail reform has led to fewer inmates in Erie County and elsewhere, the Sheriff's Office has been placing a larger percentage of its inmates in the Correctional Facility, which is more modern and efficient than the Holding Center downtown.
Still, the Correctional Facility, with 311 inmates Monday, was running at 40% of its capacity. The Holding Center was at 61% capacity.
[Next: The microwave boiled over: What led to inmate revolt at NY prison]
     
(c)2021 The Buffalo News (Buffalo, N.Y.)
McClatchy-Tribune News Service