Rikers CO wounded after inmate tosses garbage can at his head
CO John Peloso needed at least five staples to close the wound he received while responding to an inmate disruption
---
By Graham Rayman and Reuven Blau
New York Daily News
NEW YORK — A city jail officer's head was cut by an inmate who tossed a garbage can at him during a melee on Rikers Island.
Correction Officer John Peloso needed at least five staples to close the wound on top of his head, photos obtained by the Daily News show.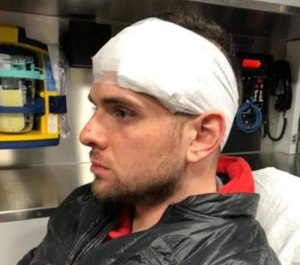 Peloso was part of a so-called probe team called in to quell a disruption inside the Robert N. Davoren Center on Rikers on Sunday at approximately 4 p.m., internal Correction Department records show.
He was attacked by inmate Jashey Little, who tossed a garbage can at his face, the department's initial review says.
Little, 18, is in jail facing murder charges and several other offenses, records show.
He allegedly fatally stabbed Juninho Juste during a fight on March 6 inside a starewell of the Sugar Hill Project building.
Little told police that "he cut me while I was stabbing him," according to the criminal complaint.
He will likely be hit with added criminal charges for the alleged attack against Peloso, said Correction Department spokesman Jason Kersten.
The incident was captured on surveillance video.
The union representing city correction officers did not immediately respond to a request seeking comment.
Elias Husamudeen, president of the Correction Officers' Benevolent Association, has previously slammed the de Blasio administration for failing to do more to protect officers.
Over the last year, there was a 9.5% increase in serious injuries caused by assaults on staff.
The city no longer puts inmates 21 and under like Little in solitary confinement. Research has shown that 23 hour a day isolation has a major effect on inmates' mental health, especially teens.
Little turned 18 years old a few months this summer before the city began placing 16-and 17-year old inmates out of city jails into a new Bronx juvenile detention center.
McClatchy-Tribune News Service