Rikers Island inmate crashes NYC Correction bus
COs had left the man and 5 other inmates unattended to get paperwork
---
By Graham Rayman
New York Daily News
A Rikers detainee jumped behind the wheel of a full Correction Department bus and drove it into a wall late Thursday, sources said.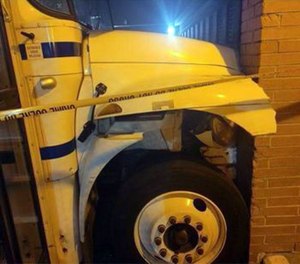 Abubakar Sanuwo, 29, was on a bus in a secured entryway at the Anna M. Kross Center on Rikers Island when the two officers watching him and five other inmates left them unattended to get paperwork just before 10:30 p.m., the sources said.
Sanuwo took the chance to get into the driver's seat and take off, slamming into a wall. He and the other inmates were injured, as well as two correction officers.
He is being held without bail on a Brooklyn robbery charge from last September, authorities said.
The extent of the injuries to him, the other inmates and the two officers was not immediately clear.
©2021 New York Daily News
McClatchy-Tribune News Service