Sheriffs help Ala. county authorities after jail hit by possible tornado
Photos from the scene show crumbled buildings, damaged roofs and trees snapped in half
---
By Howard Koplowitz
al.com
DALLAS COUNTY, Ala. — At least two Alabama sheriffs have pitched in to help their counterpart in Dallas County after the county jail was struck by a possible tornado Thursday, providing equipment and agreeing to take in detainees following the storm.
"We received word earlier that the Dallas County Sheriff's Office is in need of additional assistance in the wake of the tornado that struck Selma. This storm struck the Dallas County Jail along with multiple structures in Selma and Dallas County," the Etowah County Sheriff's Office said Thursday in a Facebook post.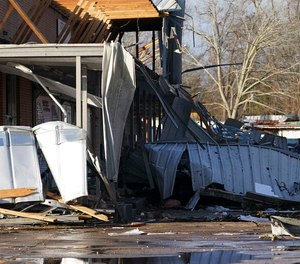 Etowah County Sheriff Jonathan Horton "sent Etowah County deputies along with some equipment to assist them during this time," the office said.
"Please keep these Etowah County Deputies who will be serving in Dallas County as well as all the people affected in the storms today," the message ended.
In Montgomery County, Sheriff Derrick Cunningham has agreed to accept several detainees from Dallas County.
"We have been in constant contact with our law enforcement partners in areas impacted by today's storms," said Cunningham. "The Montgomery County Sheriff's Office is ready to provide equipment and resources to assist our neighbors during this difficult time."
Reports indicated damage is concentrated south of Highland Avenue in Selma. Several vehicles have been tossed around and most streets are closed due to downed power lines and trees.
Photos from the scene show crumbled buildings, damaged roofs and trees snapped in half.
Officials with the National Weather Service office in Birmingham said it has received "devastating reports of damage" from Dallas County.
"Please avoid the areas that experienced a tornado so emergency personnel can respond. Please be patient with local officials and first responders. Please be respectful of those areas that were hit hard by tornadoes. And please be patient with us as we survey the damage and try to categorize something that may be difficult to describe. There will be many long days ahead for everyone responding to the areas that experienced these storms, and even longer days for those directly impacted," the NWS said.
©2023 Advance Local Media LLC.
Visit al.com.
Distributed by Tribune Content Agency, LLC.
McClatchy-Tribune News Service