New program brings puppy fostering to N.Y. incarcerated young adults
While the puppies are at the jail, they will be cared for by incarcerated women ages 18-25 housed in the drug treatment program
---
By Sarah Roebuck
Corrections1
NEW YORK CITY — A new program is helping puppies and young women who are incarcerated at the same time. 
Puppies on the Block, an extension of the Parenting, Prison & Pups Program, is a puppy fostering and initial training program with incarcerated women at the Westchester Jail, Pace University announced.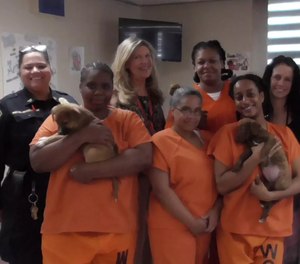 The program will soon extend to more incarcerated young men.
The puppies being fostered in the jail are provided by the Hudson Valley rescue group, Heaven Can Wait. The rescue group focuses on saving dogs from kill shelters and providing them with the love and care they need until they find their forever homes. 
While the puppies are at the jail, they will be cared for by incarcerated women housed in the drug treatment program that is managed by Saint John's Riverside Hospital.  
The rescue group will train all participants on how to care for the puppies. Patricia Byman, president of Heaven Can Wait, along with Pace University's Dyson College of Arts and Sciences Professor Kimberly Collica-Cox, PhD, and her students will help oversee the program. 
"The program provides our residents with the opportunity to learn important nurturing and empathy skills while contributing and giving back to the community as the residents care for and train the puppies," Nory Padilla, first deputy commissioner of the Westchester County Department of Corrections said in a news release. "The positive relationship between the puppies and the residents bolsters their self-esteem, and further helps them develop patience, empathy and understanding, which are critical factors that contribute to rehabilitation and reduced recidivism."
Since the program started in the summer of 2022, 29 women have gone through the program, helping 13 litters. Currently, there are five women working in the program. It expanded to the Youth Opportunites Program last week with five male handlers. 
"This program is one of many innovative tools we use for the residents at our County jail," said County Executive George Latimer. "Working with Pace University, the exemplary leadership of the Department of Correction continues to find ways to improve on the services they provide which make the Westchester County Jail a model for jails nationwide."
Collica-Cox and her students are conducting a study to measure the outcomes of the program. Preliminary data shows the puppies already provide a therapeutic benefit and many incarcerated handlers said the program has been educational, calming and therapeutic. 
"Heaven Can Wait is thrilled about the program building confidence in our pups," said Heaven Can Wait President Patricia Byman, "and allowing for a fresh start for both pups and people. It's a win-win."