HAIX Releases BLACK EAGLE Line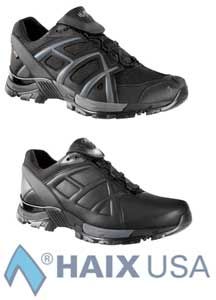 LEXINGTON, Ky. - With BLACK EAGLE™, HAIX® is breaking new ground with an entirely new product line.
The sport models of the German footwear manufacturer combine running shoe technology with innovative functionality HAIX® is well known for. The BLACK EAGLE™ line is lightweight, sporty, and multifunctional.
"Time and again, many of our customers asked for a sporty and comfortable, yet functional, shoe equally suitable on the job and off", says HAIX® CEO Ewald Haimerl.
In developing BLACK EAGLE™, HAIX® shoe specialists focused specifically on blending functionality and comfort. Modelers gave these new models a sporty design and an aesthetic look for just about any occasion. Its integrated GORETEX® membrane technology renders the BLACK EAGLE™ equally suitable for indoor and outdoor use in wet or dry conditions.
BLACK EAGLE™ comes in two different function and design lines: The "Athletic" is characterized by a light, microfiber design. The "Tactical" all leather series, on the other hand, is designed using Sun-Reflect technology which minimizes the heating effect of leather in direct sunlight.
Both lines are available in three different heights for use both on the job and off. The double hole frame system stabilizes the foot, a built in stone shield prevents sharp and uneven surfaces from pressing through to the foot, pronation support prevents the arch from falling inward, an energy return system allows for maximally efficient energy use, along with an oil- and gasoline-resistant rubber sole. Interaction of the HAIX® climate system with the integrated GORETEX® membrane ensures water-tightness and optimum breathability at the same time. The speed lacing system makes it especially easy to put on the low shoe versions.
In one short sentence, HAIX® head developer Andreas Himmelreich neatly sums up the comments by the first wear testers: "That's the HAIX® shoe we've been waiting for."