BLACKHAWK! Introduces the High Performance Fighting Uniform (HPFU)
---
use if there is a picture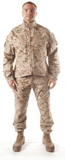 end picture
NORFOLK, VA - BLACKHAWK! Products Group's Warrior Wear apparel division has developed a new approach to the combat uniform in the High Performance Fighting Uniform (HPFU) with the Integrated Tourniquet System I.T.S.) that meets U.S. Institute of Surgical Research Requirements (USAISR). The uniform is designed to reduce bulk and improve mobility, comfort, and performance. The HPFU system consists of pants, jacket, and combat shirt with a layered vest and will be initially targeted to the Special Operations Teams and Law Enforcement Tactical teams. The uniform is constructed from no-melt, no-drip NYCO (military nylon and cotton blend) and flame resistant materials. The overall appearance of the HPFU is a lean, athletic cut.
The HPFU pants are a quick-drying, rip-stop NYCO of 70% cotton and 30% nylon in which the weaving process instills a no-melt, no-drip property that limits the severity of flame caused injuries. The pant's adjustable waistband is padded for increased comfort when wearing fully-loaded tactical belts. Other benefits of the HPFU pants include comfort, durability, ease of accessing pockets when seated, and increased mobility. The integrated knee pad pockets (pads sold separately) have cinch straps on the back of the knees to stabilize knee pads and externally mounted guide loops are integrated on the outside of the knee pad for the wearing of knee pads outside the pant pad pockets. The pants also feature the I.T.S. system of four life saving tourniquets integrated into the legs. The I.T.S. system is easy to access and can be managed with one hand for immediate stoppage of blood flow loss.
The HPFU jacket is a "Tuxedo Cut" which is shorter than standard jackets and tapered at the waist allowing easy access to belt mounted items. Four I.T.S. tourniquets are integrated into the arm area of the sleeves and can be quickly and easily accessed by the wearer or a teammate for life-saving application. The jacket also features integrated elbow pads (pads sold separately) and hook and loop mounting points for ID patches.

The HPFU combat shirt is designed to provide the wearer with less bulk under body armor. Made from 49% Modacrylic and a 51% cotton performance blend the shirt torso is comfortable, breathable, moisture-wicking, fire-resistant, and has an anti-microbial finish. Four I.T.S. tourniquets are integrated in the raglan sleeves. A zippered mini-mock collar allows for ventilation. The HPFU vest can be worn over the combat shirt for a full jacket look or for added warmth and protection. The vest has a "Tuxedo-cut" waist line for easy access to belt mounted items and has hook and loop mounting points for ID patches.
The BLACKHAWK! High Performance Fighting Uniform is available in Black, Olive Drab, or DM3 Desert Digital Camouflage. Pieces are sold separately and the pants retail for $159.99, jacket $159.99, vest $79.99, and the combat shirt for $179.99. For more information or to order, log on to www.blackhawk.com. 
About BLACKHAWK!®:
BLACKHAWK! Products Group™ , founded in 1993 by President and CEO Mike Noell, is a leading US manufacturer of tactical, military, shooting sports and law enforcement equipment. BLACKHAWK! is a global manufacturer of tactical gear, body armor, law enforcement duty gear, holsters, hydration systems, protective gloves and gear, apparel and footwear, knives, illumination tools, breaching tools, hunting gear, and recoil reducing stocks. BLACKHAWK! headquarters is in Norfolk, Virginia, with US manufacturing facilities in North Carolina, Montana, and Idaho. For more information on BLACKHAWK! and BLACKHAWK! products, log on to www.BLACKHAWK.com or call 800-694-5263.