S.C. officer stabbed multiple times by 2 death row inmates
---
Corrections1 staff
COLUMBIA, S.C. — Two notorious Death Row inmates in South Carolina stabbed a corrections officer Wednesday morning with a makeshift metal weapon at Lieber Correctional Institution in Ridgeville, the Sun News is reporting.
The officer suffered multiple stab wounds, but his injuries are not life threatening and he is in stable condition at the Medical University of South Carolina, said Josh Gelinas, spokesman for the S.C. Department of Corrections.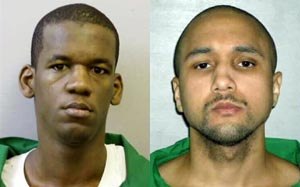 Gelinas says the officer was monitoring the inmates near a fenced outdoor recreation yard around 9 a.m. Wednesday when they stabbed him with a makeshift weapon, the Associated Press is reporting.
The inmates allegedly stabbed the guard repeatedly, but he was able to escape. Other officers inside the Death Row dormitory used pepper spray to subdue the inmates, Gelinas told the Sun News.
Mikal Deen Mahdi and Quincy Jovan Allen were placed in isolation cells after the attack, and the officer was sent to the Medical University of South Carolina in Charleston with non-life threatening injuries.
Allen was sentenced to death in 2007 fora two-month killing spree in South Carolina and North Carolina.
Allen shot, killed and burned the body of Dale Hale in S.C. A month later, he used a shotgun to kill Jedediah Harr, a bystander in an argument at a restaurant.
Allen also used a homeless man in Finlay Park for target practice with his shotgun while under the delusion he was training to become a Mafia hit man.
Mahdi is on death row for shooting and killing Orangeburg Public Safety Capt. James Myers in July 2004 before setting the body on fire with diesel fuel.
At the time, Mahdi was fleeing police after killing a convenience store clerk.
When Mahdi pleaded guilty to Myers' murder in 2006, deputies in the courtroom found a homemade, half-inch handcuff key in his pocket.
Gelinas says the prison is secure, but inmates are being closely monitored while the State Law Enforcement Division and Corrections officials investigate.

Request product info from top Concealable Armor companies
Thank You!