PRESS RELEASE
Digital Ally Introduces Feature-Rich In-Car Video System with 5-Year Warranty for Under $4000 at 2013 IACP Conference
---
Philadelphia, Penn. - Digital Ally, Inc., which develops, manufactures and markets advanced video surveillance and speed enforcement products, introduced two new products at the 120th Annual International Chiefs of Police Conference in Philadelphia, PA. One of those products, the DVM-800 In-Car Video System, provides top-of-the-line capabilities at significant savings, both upfront as well as long-term.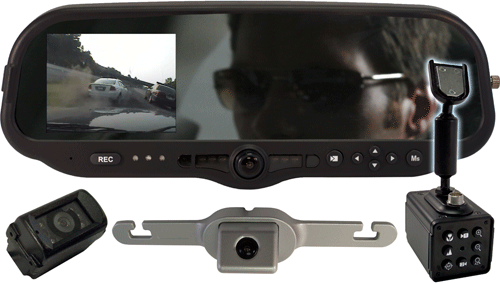 The DVM-800 In-Car Video System is a high-end digital in-car video system with 5-year warranty protection for under $4,000. Starting at under $3500, which is a minimum of $1,500 less than comparable video systems, the DVM-800 is also available with an additional credit discount for trade-in of existing in-car video systems. The Advance Exchange warranty provides an immediate replacement system should the original system require repairs. Should the department ever want to upgrade to a new model in the future, they may opt for Digital Ally to buy the system back in the future using Digital Ally's customer loyalty credit "guaranteed buyback program."
The DVM-800 In-Car Video System's base package features four cameras, dual camera simultaneous recording, wireless download, 720 pixel resolution that maximizes quality with storage space requirements, secure redundant recording to allow a continuous loop to be saved on the internal memory while individual incidents are saved on a removable SD card, 2.4GHz wireless microphone, integrated 3.5" color monitor that is invisible when not in use and supports automatic back-up camera display, GPS with interactive back-office incident mapping, detailed vehicle and event metadata, minimum 32GB of solid state memory (the most durable and reliable mobile recording medium), pre-event recording to capture the events that occurred before a recording is activated, automatic recording triggers, mark button to tag important events and locations, internal battery backup, LED status indicators and more.
You can compare the DVM-800 with Digital Ally's other video systems here: http://www.digitalallyinc.com/pdf/DigitalAlly_DVMComparison.pdf.
For more information, contact Digital Ally, Inc. at 800-440-4947 (+913-814-7774 international), sales@digitalallyinc.com or visit www.digitalallyinc.com.
About Digital Ally, Inc.
Digital Ally provides a
complete line of digital vehicle video systems
integrated into a rear-view mirror, utilizing compact monitor controllers, or laptops/MDCs;
compact video systems that may be worn
or mounted; a
digital video flashlight
; and
LIDAR handheld speed enforcement guns
.