How FirstNet will transform corrections technology
More facilities are relying on technology to ensure correctional officers stay safe while efficiently performing their duties
---
By Neil A. Miller, C1 Contributor
The corrections field is the toughest beat in the nation. The public expects wardens and correctional officers – in both local and state facilities – to work efficiently and effectively, while maintaining the highest level of protection to the community and inmates.
Technology and innovation are vital tools that keep wardens, jail administrators and correctional officers safe by sharing information and ensuring an effective and coordinated response.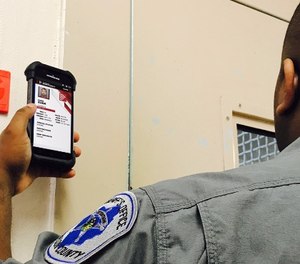 Reliance on technology for situational awareness purposes has increased in corrections, such as contraband detection, staff alerts for endangered personnel or inmates, or home-monitoring systems for low-risk inmates. Reliable broadband service is at the core of these activities. Broadband failures directly affect the ability of correctional officers to do their jobs.
How the FirstNet solution helps correctional facilities
To address this problem, Congress created FirstNet in 2012 to deploy the nation's first mobile broadband network dedicated to public safety. FirstNet is taking steps to put the latest technological advances into the hands of all first responders, including correctional officers. 
More jails are relying on technology to ensure correctional officers stay safe while efficiently performing their duties. New technologies for management of inmate activities and accountability are emerging daily.
For example, handheld devices are now commonly used to access and document important information for the corrections officer in today's jails. With the Internet of Things, daily duties such as inmate head counts and medication distribution through facial recognition and other identity biometrics will evolve into everyday routines. To ensure this data is available requires a reliable public safety broadband network.
The FirstNet network will provide reliable, high-speed access for new devices and applications currently not widely available today. FirstNet distinguishes itself from other networks by providing:
A dedicated IP core;
Increased capacity with an expanded network volume;
Priority for public safety network access and preemption over public user access when needed;
Enhanced rural coverage;
Dedicated access to deployable equipment such as drones, cells on wheels or cells on light trucks used to expand network coverage;
Secure devices;
Access to an application ecosystem that provides full lifecycle management of an application;
Enhanced cybersecurity;
Dedicated 24/7 customer support.
The decision to adopt the FirstNet solution
Built by public safety and for public safety, the FirstNet network deploys via a public-private partnership with AT&T.
FirstNet worked with the public safety community in states and territories to design a network specifically built to meet their unique needs. Based upon this feedback, FirstNet delivered customized state plans to states and territories in June outlining how the network will be built.
Governors now have an important decision to make – to adopt the FirstNet solution in their state or territory. If a governor adopts the network, FirstNet and AT&T will immediately begin delivering services and provide network access to agencies, which includes subscribers in local and state correctional institutions.
Less than a month after receiving its state plan, the commonwealth of Virginia was the first state to join the FirstNet network. With each passing week, excitement for the FirstNet network grows with more states adopting the FirstNet solution, putting next-generation technology into the hands of public safety.
"This network will be a game-changer, with the capacity, public-safety features and innovation that first responders need to save lives," said FirstNet CEO Mike Poth, a former law enforcement officer who served in the Tempe (Arizona) Police Department and as a Police Captain in Corvallis, Oregon. "FirstNet is a significant investment in public safety infrastructure to serve our communities. We're excited to see the impact this network will have in making communities across America safer."
FirstNet and the corrections and parole communities
Technology alone will not address the needs and issues of correctional facilities. This is why building a network specifically attuned to all first responders is at the heart of the FirstNet initiative.
One exciting aspect of FirstNet is its Innovation and Test Laboratory in Colorado. In this state-of-the-art lab, FirstNet and AT&T are testing public safety functionality and features unique to FirstNet's mission-critical broadband network, including quality of service, priority, pre-emption and other future mission-critical services and applications.
The organization is working to drive continuous innovation over the network – including the development of an open, integrated applications ecosystem tailored for public safety users.
FirstNet is taking first responders' feedback and using their ideas to cultivate an open, integrated applications ecosystem on the FirstNet Network, so that public safety personnel will have access to more targeted applications and more timely data than ever before possible.
The Applications Ecosystem will provide a public safety app store that houses dedicated first responder apps written by software companies, local and regional developers, in coordination with and, in some cases, by public safety themselves.
Applications developed with input from correctional officers will more readily address the issues faced in the field with real-time, useful data. For example, an application that tracks the number of violent incidents, contraband seizures or non-compliant behavior of incarcerated populations could lawfully collect this information into police records, and share it securely across criminal justice agencies.
FirstNet will enhance the applications, video and situational awareness tools used in correctional facilities by offering expanded data and voice capabilities in real-time over a secure and reliable network to:
Use eye-scanning technologies for booking procedures, recognition, identification and tracking of inmates.
Adopt technology to neutralize illegal drone use over correctional facilities and the delivery of contraband into prisons.
Provide a secure network for authorized cell phone use by staff, whereby blocking signals for illicit cell phone or social media use by inmates.
Deliver adequate bandwidth to update and add new tools.
Enhance interoperability for cross-agency sharing.
Disseminate tele-training or video-based training materials.
Develop multi-language translator apps.
Utilize handheld technologies to detect illegal contraband or prohibited electronic devices.
Allow court appearances and visitation through video services located at the corrections facility.
Provide a secure network to allow for medical telehealth services to inmates.
Why FirstNet is an investment in the future
Correction and parole officers risk their lives every day by protecting the public across the country. FirstNet is an investment in the future of state and local public safety – and especially for the corrections community, which serves in such an important and demanding capacity.
The FirstNet network solution will deliver access to a next-generation, mission-critical network to connect to life-saving tools and technologies. The FirstNet network will make all the difference for the corrections community and the public they serve.
---
About the author
Neil Miller serves as Sheriff for Buffalo County, Nebraska. Elected in 1990, he has been in law enforcement for over 40 years. Under his leadership, Buffalo County has made extensive use of wireless law enforcement applications including CAD, AVL, national/state/local queries, car-to-car messaging, premises information, situational awareness and push-to-talk on mobile data computers and smartphones.

Request product info from top Corrections Communications companies
Thank You!