The Connected Jail: How to increase efficiency and safety from intake to release
With the right technology, command staff can enhance officer and inmate safety and facility security despite understaffing and tight budgets.
---
Sponsored by Motorola Solutions
By Corrections1 BrandFocus Staff
These are challenging times for the corrections officers who keep American jails safe and just, and the command staff who look out for these officers.
Understaffing is an ongoing issue, with a 4:1 ratio between inmates and officers (or more) being common throughout the country. Meanwhile, having sufficient budget is often an issue for correctional facilities, because cutting taxes or boosting visible social services is often prioritized above enhancing workplace safety for corrections officers.
Fortunately, technology offers a practical, realistic solution to these problems. Known as "The Connected Jail," this suite of solutions is built with the right mix of integrated technology and information systems that can enhance officer safety and jail security, without requiring a substantial increase in staff or funding.
Here's how The Connected Jail concept can solve three common corrections issues.
1. Understaffing and limited resources
When there are limited people and resources to maintain a jail using conventional techniques, safety can slip. Officers can find themselves overwhelmed and unable to get assistance quickly when inmate disturbances occur. Surveillance may lapse in underused areas of the facility; encouraging crime and assault. And real-time intelligence that could be gleaned by live surveillance video may be missed, because there just aren't enough staff to monitor all the cameras.
Motorola Solutions' suite of Connected Jail technology can deal with the many problems associated with jail management when staffing levels are not optimum. For instance, Motorola's rugged APX handheld radios provide clear, reliable communications throughout the facility; bolstered by a one-push emergency button to enable fast calls for help. Whatever happens next will be captured by the corrections officer's Si500 body-worn camera (with a built-in speaker mic that connects to the APX radio), with the evidentiary video being securely stored via the company's CommandCentral Vault management software.
Effective facility-wide security surveillance is made possible by Motorola's selection of Avigilon megapixel video cameras. Their high definition feeds go directly to the jail's Avigilon Control Center (ACC) software for quick access by jail officials. Should a group of inmates start making trouble in a lightly-staffed part of the jail, ACC's artificial intelligence will catch it and alert staff.    
All this footage, plus the video captured by the Si500 body cameras, can be consolidated within one evidence platform CommandCentral Vault. Additionally, Vigilant Solutions comes with license plate recognition (LPR) tools built-in:  It can detect cars coming to the facility that may be stolen or driven by visitors who happen to have outstanding warrants of their own.
The payoff: This Connected Jail technology keeps officers safe and inmates under control – while working within a correctional facility's staffing strength and available resources.
2. Siloed technology and data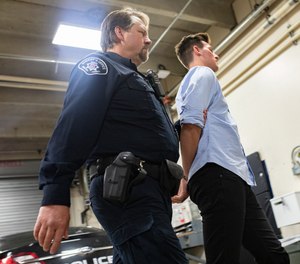 When a correctional facility's technology isn't integrated and records management is fragmented, critical details can get missed, like which gang members can't be housed together and which inmates were actually prescribed opiate-based medication. Unintegrated technology and 'siloed data' (records that aren't cross-referenced with each other) makes operations difficult for corrections officers on the best of days, which are few and far between in jails that are understaffed and overcrowded.
Motorola Solutions' CommandCentral Jail software platform brings everything together. It uses automation and shared records to streamline inmate intake, supervision, and release procedures; and supports the addition of relevant information like gang affiliations and medical needs to the central record management system. CommandCentral Jail is also a one-stop repository for inmate photos and fingerprints; incident logging and individual behavioral traits; and all the data required to execute the inmate release process in line with the law.
With this level of data integration, computer-aided procedures, and digital records management, more work can be done better and more accurately by existing staff members. The result is a smoother-running, safer jail with happier employees and better morale, which will trickle down to inmates and potentially improve their behaviors in response.
3. Budget Restraints
It may seem counterintuitive, but an investment in The Connected Jail solution from Motorola Solutions can help correctional facilities that are plagued by budget restraints. The following five reasons explain why The Connected Jail may be a worthy investment:
Backwards compatibility. Motorola Solutions' Si500 body-worn cameras can be integrated into both legacy XTS Radios and current APX radios. This allows correctional facilities to update and enhance their operations while avoiding the cost of a total rebuild.
3rd Party compatibility. A jail can install Avigilon Control Center software on their server and use it to manage video feeds from their existing cameras, even if these cameras were made by another manufacturer. The same is truly for video being analyzed using Vigilant Solutions: The platform is technology-agnostic with respect to which makes and models of cameras shot the footage.
Operation efficiency. The Connected Jail suite of automated tools allows an existing number of corrections officers to do more, while experiencing less stress. They truly embody the concept of 'work smarter, not harder.'
Jail staff retention. It is expensive to train corrections officers, and it is inefficient to replace them with new employees, as opposed to retaining personnel who already understand the rules and routines of the job. With The Connected Jail solution, officers' work lives are improved and their morale enhanced. This leads to enhanced working conditions in both practical and psychological terms; improvements that increase people's reasons to stay in the jobs they're in.
Streamlined documentation. Jails can be volatile, violent settings where things go wrong and lawsuits ensue as a result.
With an integrated system like The Connected Jail, corrections managers receive the benefits of streamlined, more accurate documentation covering all aspects of corrections management. This includes access to accurate evidence with respect to officer-inmate and inmate-inmate conflicts, which can result in speedier resolutions of disputed incidents.
Such outcomes can reduce costs for correctional facilities. This is why The Connected Jail is a smart choice for underfunded jails, who need to get the best value for their limited funding.
Take a forward-looking approach to jail challenges
In devising The Connected Jail, Motorola Solutions took a hard look at the challenges confronting corrections and devised technological remedies that are tailored to meet these challenges.
Moreover, these remedies address not only technology shortfalls, but the entire workflow that affects correctional facilities and the officers who run them. This includes everything from officer safety and situational awareness to the demanding paperwork and procedures that dominate day-to-day operations and sometimes threaten to grind them to a halt.
In this way, The Connected Jail is a forward-looking approach to running jails more effectively and safely in the 21st century. At a time when command staff need real answers to cope with understaffing and underfunding, The Connected Jail is a solution that provides these answers in useful, actionable ways.

Request information from Motorola Solutions
Thank You!