E.A.R. Inc. Introduces VIP Technology Ear Mic w/Active Noise Cancellation
Introducing VIP Technology Ear Mic w/Active Noise Cancellation - primero
Boulder, CO — Ear Mic technology has finally advanced into the professional security industry and continues to build on ease of use and specifics of clarity for integrated safety in louder environments.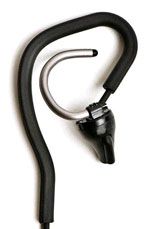 This particular unit features VIP (Voice Intra-aural Pick-up) technology. This means that the integrated mic within the earpiece picks up and understands the vocal tones emitted through the ear canal. There is also an integrated mic on the outside that reads ambient noise levels and applies active noise canceling algorithms to eliminate echoes and louder noise surroundings.
The result, a small and sophisticated "boom less" headset system that is ideal for SCBA and helmet users such as HAZMAT groups, first responders, motorcyclists, riot police and other industrial occupations.
Units come complete with chest ptt (push-to-talk) and portable radio cable. Optional sniper/handle bar finger ptt is also available.
For further information please contact E.A.R., Inc., at info@earinc.com or call 800-525-2690/303-447-2619. Website link: http://www.earinc.com/p2-ear-mic-technology.php