PRESS RELEASE
Shanks virtually eliminated after new development
---
Shanks virtually eliminated after extensive research and design leads to development of a new stronger flexible plastic ideal for correctional facilities.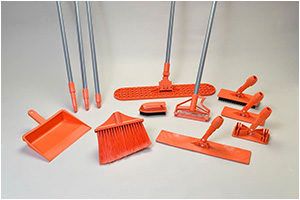 CLEVELAND, Ohio — Briarwood Products proudly announces the release of its newest line of Shank-Free and Metal Free cleaning tools for correctional facilities. The product line was developed by Briarwood in response to widespread safety concerns from correctional officers.
Safety Managers previously began replacing metal tools (used by inmates to make "shanks") with hard plastic tools. They discovered that creative inmates were sharpening the hard plastic and hand-crafting shanks. Briarwood Products new tools are made from a special rubbery plastic that virtually eliminates shanks. The unique polymer used cannot be sharpened like other standard hard plastics. Inmates cannot form or re-form the plastic into a new shank or shank handle.
100% Made in the USA, and currently being used in Correctional facilities throughout the world.
About Briarwood Products
Briarwood Products is the leading manufacturer of safe shank-free and metal free correctional cleaning tools. Our mission is to enhance the overall safety in correctional facilities by eliminating the creation of shanks. Our cleaning tools are made from a special rubbery plastic that cannot be sharpened to made into a weapon. 
Briarwood Products offers a full line of high-quality plastic cleaning tools and has newly designed our Orange Shank-Free and Metal-Free product line. These products are ideal for use in correctional facilities and safe for all to use. 

Request more info from Briarwood Products, LLC
Thank You!