How a New York prison is using UAS detection tech
The facility is using the tech to thwart any attempts to use drones to deliver illicit items
---
This article is taken from the June 2017 issue of eTechBeat, published by the Justice Technology Information Center, a component of the National Law Enforcement and Corrections Technology Center System, a program of the National Institute of Justice, (800) 248-2742.
By Michele Coppola
TechBeat Magazine
As unmanned aircraft systems become more prevalent, correctional facilities are looking for ways to detect the devices, which have been used in the U.S. and other countries to attempt to deliver contraband to inmates.
A Long Island correctional facility is using UAS detection technology to thwart any attempts to use the flying equipment to breach prison grounds to deliver illicit items.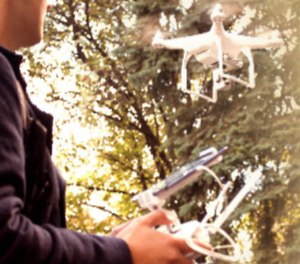 The Suffolk County Correctional Facility in Riverhead, N.Y., installed the detection technology in May 2016, and after a 60-day trial period of testing the detection system using the county sheriff's office UAS, decided to keep it.
According to Todd Delong, a correctional officer in the Integrated Systems Unit of the Suffolk County Sheriff's Office, the facility decided to install the technology after growing reports of people using UAS to attempt to deliver, sometimes successfully, drugs, cellphones, weapons and other contraband to correctional facilities around the U.S.
"We had not had any incursions from drones we were aware of, but these occurrences were happening more and more at other correctional facilities and we were trying to be proactive, and stay ahead of the curve," he says.
The Riverhead facility is a maximum security facility housing 800 male and female inmates. As of April 2017, the facility had not experienced attempts to penetrate prison grounds using UAS. In early 2017, the system detected two UAS in one day in a public parking lot in front of the prison, which turned out not to be a threat but confirmed the system's reliability.
"The drones were being flown in a public area in a public parking lot. It was not a threat, it was more like people who did not realize they should not be flying drones there, people playing with a Christmas present. But the system alerted us, which was good and the first real test of the system," Delong says. "It's simple to install and use and no extensive training is needed."
The $40,000 system at the facility has five multisensory trackers installed, each of which uses acoustic, video and radio frequency sensor technology. If the system detects something, an officer at a control station sees a graphic overlay of the facility and will get an alert as to where the technology was detected, in addition to a video of it. In addition to the control station officer, alerts are sent to selected staff via email and text alerts. Data and video collected during the incursion is collected as evidence if needed.
For more information, contact Todd Delong at todd.delong@suffolkcountyny.gov.

Request product info from top Facility Products companies
Thank You!