How one utensil provides a safer option to inmates and COs
The EcoSecurity Utensil may be one small change inside a facility, but it can have a big effect on safety, health and the environment
---
The following is paid content sponsored by EcoTensil.
By Corrections1 BrandFocus Staff
Whether it's ensuring officer safety, inmate compliance or the smooth operation of a jail or prison, administrators have a lot on their hands.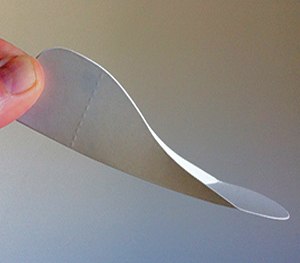 That means simple solutions can have a large impact. Enter the EcoSecurity Utensil (ESU), a safer, non-weaponizable alternative to traditional silverware. The utensil dramatically reduces incidents of self harm and harm to others, as well as assisting with inmate morale CO safety and cost reduction.
A happy accident
The creation of the ESU was a fortuitous accident, according to Peggy Cross, founder and CEO of EcoTensil.
Before the ESU was created, Cross was working on a paperboard utensil (think coffee cup) that attached onto a yogurt cup. She was working with a printer in development of the product.
The California Department of Corrections and Rehabilitation (CDCR) happened to contact the same printer regarding production of an ice cream tab lid, which they used for an all-purpose utensil in the prisons. The tabs were no longer available from their original, East Coast supplier.
When the printer saw the perfect synergy between the two products, they put the CDCR in touch with Cross.
"Once we started working with CDCR, we all realized it was a perfect solution to a real prison industry need," she said. "They were looking for an alternative to plastic utensils made from a material that could not be sharpened and used for self-harm. The material needed to be food grade and FDA approved."
And so the EcoSecurity Utensil (ESU) came to be.
The result was a utensil made of slick paperboard similar to that of a milk carton. It folds to create a sturdy yet simple structure, that lets inmates slice through most food items, such as a tamale or eggs, but not skin.
It even has a perforation across the handle, which allows the product to break down more quickly if swallowed or flushed.
A safer utensil
The biggest fear with plastic utensils is the potential for inmates to turn them into deadly weapons used against officers, other inmates or themselves. The ESU's novel use of paperboard renders it virtually non-weaponizable, Cross said.
"In 5 years and across 48 states with tens of millions sold to prisons, we have had not one report of an ESU causing harm to another person," she said.
EcoSecurity Utensil National Account Manager Mary Shrive said the design is focused around protecting the safety of inmates and the COs working at a facility.
"That was an important aspect of the product for us," she said.
Because ESUs helps prevent costly incidents, it stands to help save your facility money and time while increasing safety.
"When ESU prevents just one small incident, it pays for itself for years" Shrive added. 
A more humane option
Those not incarcerated may think little of eating pizza with their hands. But try being in segregated or suicide watch and only eating with your fingers for every meal.
Shrive noted the company has met with several top correctional psychiatrists who confirm eating with fingers can have a degrading effect leading to low morale, unrest and combative behavior. This can include self harm, riots, hunger strikes and other disruptive behavior.
"By offering a paperboard spoon alternative to fingers-only menus, facilities can potentially increase morale among their at risk inmates," she said, particularly for those with mental heath issues or on suicide watch.
She said the ESU can help reduce lawsuits stemming from "inhumane treatment." The paperboard utensils are not considered punitive as EcoTensil products are used commercially across the U.S. for food sampling at stores such as Whole Foods and Sam's Club.
A more sustainable alternative
As many facilities are being encouraged to "go greener," the ESU helps institutions to meet sustainability goals.
ESU uses much less material than plastic, creating less waste. It is compostable and recyclable at waste processing facilities that accept milk cartons, and is made from renewable resources.
EcoSecurity Utensils are an environmentally friendly option that can help prevent inmate attack incidents. It stands to help save your facility money and time while increasing safety.
To learn more about the EcoSecurity Utensil, and learn who is using them in your state, visit ecosecurityutensil.com or contact Mary@EcoSecurityUtensil.com.