Ky. corrections officials grilled about prison food quality
Lawmakers want to know if poor food may have been catalyst to last summer's riot
---
By Bruce Schreiner
Associated Press
FRANKFORT, Ky. — Kentucky lawmakers grilled top corrections officials Wednesday about the quality of meals served in state prisons in seeking to determine what role inmate displeasure with their food might have played in a fiery prison uprising last year.
The House Judiciary Committee delved into the state's $11.8 million-a-year contract with Aramark Correctional Services, which provides meals at state-operated prisons in Kentucky.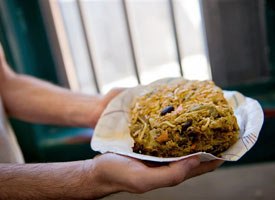 Rep. Brent Yonts, D-Greenville, raised questions about the quality and amounts of food served inmates, and recounted claims of incidents in which prison food was allegedly tainted by hair balls, rocks, cardboard, bread ties, worms and even human feces.
"The issue is a matter of humanity," Yonts said. "The issue is a matter of morality. And the issue is not a matter of money."
Yonts has introduced legislation that would cancel Aramark's contract with the state and return the prison food-service duties to the state. The panel did not vote on the bill, which would not apply to food service in private prisons or in local jails housing state inmates.
During a nearly two-hour hearing, lawmakers pressed corrections officials for details into the causes of the riot last August at Northpoint Training Center in central Kentucky.
Corrections officials said food was not a primary factor in the riot, which they said was sparked primarily by anger over tighter restrictions to recreation areas and the prison yard.
When pressed by the panel about the role of food in the uprising, state Corrections Commissioner LaDonna Thompson conceded that the inmates "do not like the food."
The dissatisfaction, she said, might be due to heart-healthy menus featuring reduced amounts of sodium and sugars being served inmates.
Thompson defended the Aramark contract and said prison meals meet daily calorie and nutritional requirements.
Officials said the contract saves the state an estimated $5.4 million each year.
They said bulk purchases of food and beverages yield huge savings that enable Aramark to provide meals for $2.63 daily per inmate.
Thompson said that wardens at the state-operated prisons had not heard any groundswell of complaints from correctional officers about the quality of food served inmates.
But Thompson acknowledged there might be an occasional problem.
"Occasionally there will be a bug in a meal," she said. "That's just the nature of any food service."
She cited a case in which a grub worm was found in soup being served inmates at Green River Correctional Complex. The food was immediately discarded, she said.
At Western Kentucky Correctional Complex, there were three outbreaks of illnesses, Thompson said, but lab tests showed two outbreaks were not food related and the third was inconclusive.
Tim Campbell, president of Aramark Correctional Services, said the company stands by the quality of its food service. It serves more than 600 correctional facilities in North America. In Kentucky alone, it prepares 13 million meals each year for the state corrections department.
"We wouldn't allow or stand for anything to get in the way of our reputation as it relates to the quality of the products that we produce," he said.
Rep. Mary Lou Marzian, D-Louisville, said the state could perhaps avoid another prison riot by spending a bit more on inmates' meals.
Rep. Kelly Flood, D-Lexington, complained about a "big haze" regarding details into the causes of the prison uprising. She said there was "a real gap going on here, and we insist on that gap getting narrowed quickly."
Yonts raised the possibility of lawmakers issuing a subpoena to gather details into the matter. The cabinet claims it has already issued the report into the riot, with some security-related matters redacted. Cabinet leaders agreed Wednesday to review the report with committee staff to determine what parts will remain redacted.
Matthew Hughes, a correctional officer at Northpoint who attended the hearing, said afterward that lawmakers had asked the right questions.
Hughes said he considered food to be a factor in the riot, and that food quality plays a factor in safety at prisons.
"If you're hungry, you're going to get ornery," he said.


Request product info from top Facility Products companies
Thank You!