VAULT offers affordable storage and incident command solutions
The VAULT is a 17-cubic-foot mobile storage or command center that can turn any truck with a 2" trailer hitch into a tactical response vehicle
---
By Drew Johnson
Corrections1 Editor
Once upon a time, a medium-sized police or volunteer-fire department could scrape together enough money for a half-million-dollar, state-of-the-art emergency rescue vehicle or mobile incident command post. Those days are gone. The good news is that public safety departments have suitable—although certainly pared-down— affordable alternatives for storage and mobile-command setups that they need in this lean financial climate.
One such solution is the VAULT (Vehicle Attached Utility Load Transporter) from Rescue 42, which is a deceptively simple-looking but incredibly useful tool. Essentially a large, light-weight aluminum box, the VAULT is a 17-cubic-foot mobile storage or command center that can turn any truck with a 2" trailer hitch into a tactical response vehicle. Each VAULT is lockable, weatherproof and powder-coated, and can be customized with your department's logo.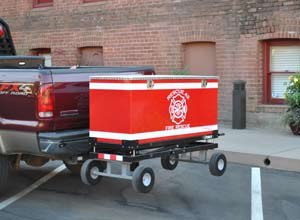 It works like this: each VAULT is mounted on a rugged scissor lift chassis which runs on solid, never-flat tires. The user simply wheels the VAULT over to the back of their truck or SUV, aligns the box with the rear of the truck, and turns a crank that expands the scissor lift.
Once the box is over the hitch, the user lowers the VAULT until it's mounted onto the hitch, then continues to crank the lift until the chassis is lifted off the ground securely under the box.
Then, just lock the hitch and you're ready to roll.
The entire process takes a matter of minutes, says Tim O'Connell, president of Rescue 42. The cranking mechanism allows the user to lift a substantial amount of weight with relative ease.
"My 11-year-old daughter can mount 500 pounds of stuff to my truck in less than three minutes," O'Connell said.
There are several benefits to this kind of mobile storage. Rather than having to attach a bulky trailer, any officer or rescue-worker with a truck and a trailer hitch can attach the VAULT and drive their vehicle without losing any maneuverability. Because of its size, the box requires no registration or licensing fee, and incurs no speed restriction.
Once on the ground, the VAULT can go just about anywhere. Its wheeled chassis, manageable size and ease of use make the VAULT ideal for getting into and out of hard-to-reach situations.
O'Connell—a volunteer fire fighter with 25 years on the job — said that there dozens of potential uses for this type of storage device.
Fire departments can modify their VAULT with Rescue 42's Self Contained Breathing Apparatus, which allows uses to carry up to 24 air cylinders to a fire and roll them right to staging. This is important, O'Connell notes, because though some departments may own a vehicle with an air compressor they can bring to a fire, most departments only carry a couple spare cylinders in their truck.
For large fires, this necessitates returning to the station for spares, which are then hand-carried to staging. A VAULT outfitted with a Self Contained Breathing Apparatus obviates that cumbersome process.
Fire, police, and EMS departments can strategically locate VAULTS stocked with various rescue and emergency response gear around their district. This could be critical in rescue situation where departments need to bring large amounts of supplies into large buildings.
In jails or prisons, officers can store VAULTS in strategic locations stocked with riot gear, extraction tools or medical supplies.
"This allows us to fill in where we just don't have the budgets anymore for big specialized equipment," O'Connell said.
Rescue 42 also makes a version of the VAULT that can serve as a mobile incident command post. Aptly named the VAULT Incident Command Post (ICP), it can be customized with drawers, filing cabinets, shelves, radio transmitters, fax/printers, portable generator, lights and more.
"Some departments have spent a million dollars for an RV that basically has this same configuration," O'Connell said.
The basic VAULT General Purpose Box retails for around $2,000, which includes the scissor lift and custom paint job. The VAULT Incident Command Post retails for around $10,000, depending on customization.
Highly customizable, mobile, and easy to use — the VAULT offers mobile storage and incident command solutions to small and large departments alike.
Learn more about the VAULT at Rescue42.com.