Nightstick's XPP-5422GM offers multi-purpose light
The flashlight offers a magnetic hold so that users can work hands free with 360 degrees of illumination for up to four and a half hours
---
By C1 Staff
Bayco is expanding its Nightstick flashlight brand with the XPP-5422GM, which is the first combination flashlight and floodlight to offer dual magnets.
With the magnets, users have the option to work hands free and be provided with an unrestricted 360 degrees of illumination.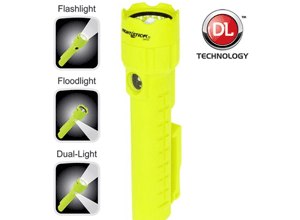 The flashlight has a drop rating of 2 meters and is water-rated as IP-X7 waterproof. The body, which is painted in high-visibility green, is made from a heavy-duty engineered polymer designed for durability and reliability.
The flashlight is up front, offering 120 lumens, while the floodlight is angled 45 downward facing in the body housing. This allows users to choose one or the other, or use both in combination. Battery life runs up to 17.5 hours on a fresh set of AA cells when using just one light; with both on, the batteries will last 4.5 hours.
For more information, check out Bayco's website.