PRESS RELEASE
Insight Technology Announces its Fall HX Tactical Flashlight Rebate
---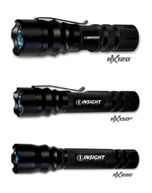 Ann Arbor, MI - Insight Technology announced today that it is offering a fall rebate on the complete line of HX Tactical Hand-Held Flashlights. The mail-in rebate is available to any consumer who purchases HX lights from now through December 31, 2011. Rebates include $40 back on both the HX120 & HX150 and $50 back on the HX200.
Whatever the situation, these lights are built to deliver under pressure. This HX-Xtreme Series of tactical lights is constructed of durable hard-coat anodized aluminum and provides incredibly bright LED light. These lightweight HX Tactical lights are waterproof and come with a limited lifetime warranty.
Each light can be customized to start on any brightness level or function and offers programmable settings that include: auto off, constant on, momentary on, dimming, a blinding strobe and SOS beacon, making this series an incredibly versatile and possibly life saving tool.
Rebate coupons have been distributed to authorized dealers and distributors and can also be downloaded at www.insighttechgear.com and www.eotech-inc.com. Customers will receive rebate checks within 8 weeks of receipt.
EOTech EOTech and Insight Technology have leveraged their combined status as industry leaders to create the L-3 Commercial Products Group. Established in 2011, the group will offer the commercial market a single source that delivers cutting edge technology and products in the fields of holographic sighting systems, tactical lasers, illuminators, thermal imaging equipment and firearms training devices. This group operates in state-of-the-art facilities and is dedicated to providing high-quality battle tested products to the law enforcement and commercial markets around the world. For more information call (888) 368-4656 or visit our websites at www.insighttechgear or www.eotech-inc.com.