PRESS RELEASE
Gould & Goodrich Expands Concealment Line with Additional Carry Options at an Affordable Price
---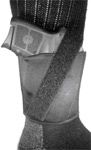 Lillington, N.C. - Gould & Goodrich is pleased to introduce the new model B516 ankle holster. The holster is constructed from high quality neoprene and is enhanced with an adjustable safety strap and genuine sheepskin backing. The B516 provides a sturdy, comfortable, lightweight option for most backup weapons. The holster is available in right or left hand carry at $49.95 suggested retail price.
As a companion to the B516, Gould & Goodrich is offering the model B316 ankle carrier to provide a platform for handcuff and magazine carry.  Constructed of neoprene, the ambidextrous carrier offers a layer of genuine sheepskin padding to provide all day comfort.  Two accessory pockets provide space for chain or hinged cuffs, a small or large magazine or knife. The B316 is offered at $36.95 suggested retail.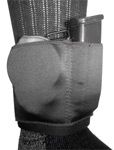 Both the B316 and B516 both offer a sewn in D-ring to accommodate an optional leg garter that may be purchased separately, model B865, $17.50 suggested retail.
Gould & Goodrich's commitment to excellence is based on a strong belief in the American worker and the quality of American made products. Since 1985, Gould & Goodrich has produced its complete line of holsters, belts, and accessories at our 50,000 sq. ft. facility located in Lillington, NC.
To receive a free catalog of product in leather, nylon and synthetics, write to Gould & Goodrich, 709 E. McNeil Street, Lillington, North Carolina, 27546, USA. CALL 910.893.2071 or 1.800.277.0732. FAX 910.893.4742. E-Mail info@gouldusa.com or www.gouldua.com