Bianchi Adds New Glock 20/21 Fit to CarryLok Holster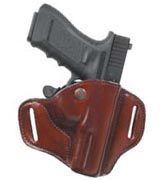 TEMECULA, CA – Bianchi International is pleased to announce that their new CarryLok™ Holster is now available to fit the Glock 20/21 pistols. The CarryLok Holster is based on the ever-popular pancake holster design with a unique twist. Bianchi has replaced the traditional thumb break with their new FingerLok™ device. Now, instead of snaps and straps to deal with, all you have to do to secure your firearm is firmly seat it in place in the holster. A quick upward tug will confirm that the holster's Auto-Retention feature has secured your firearm. To draw your firearm, simply depress the release tab with your middle finger as you draw. The result is an efficient, one-step single plane draw. Unlike traditional pancake style holsters, the device in the CarryLok™ holds the holster open for easy one-handed reholstering. The CarryLok™ is available in a black and tan finish. The Model 82 has a suggested retail price of $62.50.
Bianchi International is recognized for its unparalleled quality, innovative design and personal service. Established in 1958, Bianchi International is one of the largest, leading manufacturers of holsters and accessories for law enforcement, sports enthusiasts and the military. A wide range of products are available through authorized dealers and distributors worldwide.
For further information, contact:
Bianchi International
27969 Jefferson Avenue
Temecula, CA 92590;
Call: (800) 477-8545
Web site: www.bianchi-intl.com