Customizable Concealed Weapon Fanny Pack From Blackhawk Offers Performance, Comfort and Flexibility
For Immediate Release
Norfolk, VA - BlackHawk Industries offers an urban carrying case that delivers performance, comfort and flexibility. This fully ambidextrous fanny pack features silent zipper pulls for a lightning fast draw.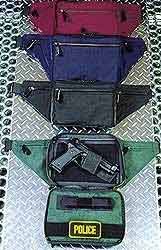 The pack sports an IVS (Intercooler Venting System) back panel which increases comfort and stability. The molded ventilation channels allow more airflow, keeping you cooler. Handguns are retained by an adjustable thumbreak holster.
The holster design allows for substitution of items such as batons or flashlights in place of the pistol. Extra pouches can be ordered to customize your Concealed Weapon Fanny Pack.
Made of 1000 Denier NyTaneon, this rugged pack performs in any environment. BlackHawk offers a LifeTime Guarantee that ensures long term performance.
Visit the Blackhawk Website for more information or purchase.
BlackHawk Industries, Inc.
4850 Brookside Court
Norfolk, VA 23502 U.S.A.
(757) 436-3101
(757) 436-3088 Fax