PRESS RELEASE
Peerless Handcuff Co. Celebrates Model 700L - 100th Anniversary Limited Edition Handcuff
---
Peerless® Handcuff Company announces the 100th Anniversary Model 700L - Chain Link Handcuff. The Model 700L comes with a high polish nickel plated finish, special 100th Anniversary markings, unique serial numbers and retro packaging. The Model 700L is a limited edition model with only 1000 units being produced. Packaging includes 100th Anniversary labeling, individualized thank you card, manual and two keys. The special model handcuff is manufactured to withstand the demands of everyday use. It will also make a great special presentation handcuff, award handcuff, unique gift or collector's item. Made in USA.
The 700L special edition handcuff is being offered to help commemorate the centennial anniversary.
The Peerless® Handcuff Company was established in 1914 by James Milton Gill. Now in its fourth
generation, Peerless remains a family business committed to producing the finest restraints available.
Peerless® Handcuff Company offers a full range of metallic restraint products and accessories. These products are used by law enforcement, correction and military agencies throughout the US and abroad.Its signature restraint products are still proudly made in the USA. For more information on Peerless® Handcuff Company history and products visit www.peerless.net.
About Peerless® Handcuff Company
Setting the standard since 1914. Peerless offers a full line of restraining devices including Standard Handcuffs, Hinged Handcuffs, Oversize Handcuffs, Leg Irons, and Waist Chains. Other products also include color plated restraints and high security restraints. All products feature all steel construction and are designed to meet or exceed federal and military requirements including the NIJ Standard 0307.01. Peerless restraints come with a lifetime warranty for manufacture defects.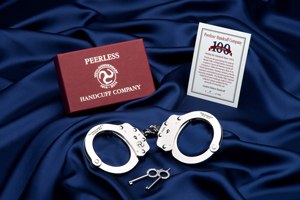 Request more info from Peerless Handcuff Company
Thank You!