3 ways to keep contraband under control with detection technology
Apply tools like X-ray scanners and trace detection in a layered approach to prevent illicit items from slipping through the cracks
---
Sponsored by Smiths Detection
By Rachel Zoch for Corrections1 BrandFocus
Contraband causes serious problems when it enters a prison or a jail, disrupting the order and endangering everyone, from inmates to staff to visitors.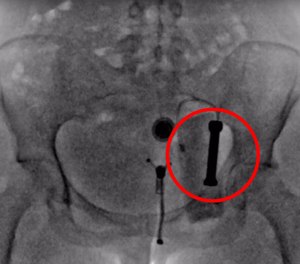 "Contraband coming into a prison affects a lot of things: safety, medical costs, drug issues, manpower, everything. That's why it's so important," said Gary York, a retired Florida senior prison inspector and current Corrections1 columnist. "Inmates with contraband are the most powerful and the most dangerous."
Contraband can also create expensive liabilities, such as drug overdoses, violent attacks and even escapes that disrupt public safety and drain budgets.
"Every overdose that takes place costs the agency thousands and thousands of dollars," said York, "so if you could stop any amount of drugs from coming into your prison, you'd save your agency some money."
Here are three best practices for screening and key tools to keep contraband under control, both by finding illicit items that might already be present and by preventing it from getting into your facility in the first place.
1. Inspect inmates coming into the facility, every time
Screening every person – inmate, staff or visitor – who comes into your facility is a must. How you go about those searches is up to you. Many facilities rely on labor-intensive strip searches to screen inmates. These must be conducted consistently on every inmate going out or coming in, every time.
An X-ray body scanner, like the B-SCAN from Smiths Detection, is an easy way to address the three key pitfalls of this method, because a scanner allows faster and less invasive searches but provides a more thorough, detailed image that includes visibility into body cavities.
A body scanner also allows you to screen visitors and employees thoroughly and quickly, without invasive measures. And the scanner can pick up hidden objects, such as a small bag of drugs tucked in a crevice or cavity, not just the metallic items picked up by metal detectors and wands.
"The big advantage of the B-SCAN is that it can look inside the body. A number of things are smuggled in body cavities, so the B-SCAN allows prison officials to look inside the body without having to do an invasive type of search." said Dr. Chris Weber, a technical solutions engineer with Smiths Detection. "The more invasive a search, the more dangerous it is to the operator."
A body scanner is not a magic bullet, cautions York. Before you buy a body scanner, he advises, be sure the provider offers detailed training so that officers who will perform the scans can learn to recognize items, such as a razor blade wrapped in plastic and tucked into a body crevice or cavity.
"You must remove that inmate and do a physical strip search to ensure that mass is not a weapon," said York. "Proper training is the key to running that machine, and if you're trained properly and combine it with physical searches, this will help greatly in the reduction of contraband."
York recommends inspecting scanner images by quadrant to maintain focus, just like a cell search, so you can examine each area thoroughly. Don't forget to check prosthetics, wheelchairs and crutches – these are common contraband hiding places that can be searched easily with a body scanner.
In addition to the body scanner, York says all visitors and employees should be required to pass their belongings through an X-ray machine.
Similar to entry points at courthouses and airports, correctional facilities can screen bags and other belongings – as well as mail and deliveries – quickly and thoroughly with an X-ray machine like the HI-SCAN 6040i from Smiths Detection.
"We have a lot of cases every year where staff bring contraband into the prison," said York, "so if we're going to work that hard to keep the inmates from bringing in contraband, we have to work that hard on the visitors and staff as well."
2. Search cells often and at random with technology
Cell searches and shakedowns are critical in the battle against contraband, says York, citing the 2015 "Escape at Dannemora" as the perfect example.
"The cell block where those two murderers escaped from hadn't had cell searches for six months," York said. "Agencies and supervisors really must ensure that cell searches are done daily, on a random basis. You have to have cell searches to keep inmates on their toes and let them know we're serious about contraband."
When you do find contraband drugs, it's important to know what you're dealing with, both for officer safety and to understand how to respond appropriately.
"Being overprotective costs money in personal protective equipment and time for the training involved," said Weber. "And then, because today's drugs are often more dangerous, the disposal costs can increase as well. So knowing what you're dealing with, No. 1, reduces the cost of the response, and also, if there is an exposure, we need to figure out what they were exposed to and document that for OSHA."
Weber says it's also helpful for corrections administrators to know what substances people are trying to smuggle in so they are aware of the possible exposures and effects.
"Knowing what's coming in can help you train and protect your officers, even in their routine duties, to know what behavior to expect out of prisoners," he said.
This is where a portable trace detection tool like the IONSCAN 600, ACE-ID or Target-ID can come in handy. These tools can detect various drugs, and illicit narcotics like fentanyl. If contraband is suspected, even if it is unseen to the naked eye, COs can swab hands and belongings using the IONSCAN 600 to find out if an individual or object has been in contact with drugs. The ACE-ID, on the other hand, can scan through plastic bags and bottles to minimize the handling of substances, and the Target-ID can be used to identify a sample through non-destructive testing.
Each of these tools includes a library of potential results for rapid, definitive response.
"The more opioid analogs you have in the library, the better you're going to be able to identify them," said Weber.
And if a substance shows no match to the data in the library, Smiths Detection offers a ReachBackID technical support service for further analysis. Users can expect a verbal response within an hour, says Weber, and a full written report within 24 hours.
"Having that information on scene is really critical," he said. "Correctional facilities are realizing that the handling of some of these materials can be a risk to correctional officers, so that identification piece becomes more important."
3. Catch more contraband with a layered approach
Ultimately, says York, the more ways you search, the better.
"If the inmates see you using a tool besides just your pat-downs and strip searches, they know we're really watching and trying to do our job right," he said.
When you use varied methods, including conventional X-ray and trace detection, says Weber, you have a complete screening solution.
"You have the X-ray that can look in bags, purses, etc. You have the B-SCAN that can look at the people coming in. Then you have the IONSCAN that can do a secondary check to make sure we didn't miss anything at trace levels. And then if you do find something, you have the ACE-ID that can look through a translucent container and identify a material and the Target-ID if you have an unknown substance that needs to be tested," he said. "So, put together, you have a multilayered approach going from non-invasive to trace, to identify bulk materials."
Weber likens contraband screening efforts to a dam or dike: "You can have the best dam or protection, but if there's a hole somewhere, the water's going to find a way to get through. The more complete your approach is, the better off you're going to be."

Request information from Smiths Detection
Thank You!