How portable detection tools can help you identify drugs within minutes
Test unknown substances during cell searches for more thorough inspections and improved CO safety
---
The following is paid content sponsored by Smiths Detection.
By Corrections1 BrandFocus Staff
Contraband is an ongoing problem in correctional facilities, especially drug smuggling, and inmates are endlessly creative in finding new places to hide illicit items.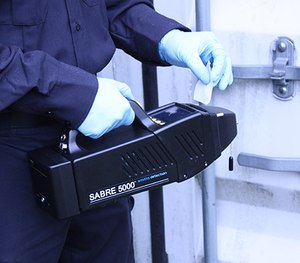 It takes a lot of time to toss cells, which often requires a lockdown. COs often must search in haste and may miss small items or bypass safety measures in the process.
It's crucial to know what you're dealing with when you find a mysterious contraband substance. The opioid fentanyl and its related analogs are so potent that what appears to be a very small quantity could be a fatal dose to an unsuspecting CO. It is impossible to distinguish by sight whether a quantity of powder will be fatal, which makes the risk of accidental exposure a major safety issue.
In addition to personal protective gear like gloves and masks, portable detection tools can increase officer safety by quickly detecting and identifying dangerous substances to help prevent or reduce exposure.
PROTECT YOURSELF
Because even trace exposure to some drugs can lead to respiratory failure, cardiac arrest and death, COs must take precautions when searching for contraband.
As Corrections1 columnist Joe Bouchard advises, always wear gloves, and treat all surfaces as though there is an infectious or dangerous material present.
"Look before you touch," he writes. "What you do not see can hurt you."
He also recommends using a handheld metal detector to locate weapons and sharp metallic objects, but this tool won't warn you if a dangerous drug is present. Just as you don't want to be stabbed accidentally by a shank or a needle, you also don't want to accidentally inhale or touch a potent drug like carfentanil.
Awareness is half the battle, and portable detection tools, such as the SABRE 5000, Target-ID and IONSCAN 600 from Smiths Detection, can identify or confirm the presence of narcotics in less than a minute.
DETECTING NARCOTICS
The ability to detect and identify the presence of narcotics quickly is critical. The handheld SABRE 5000 can identify these substances in seconds using a small swab sample.
The SABRE 5000 is optimized to detect methamphetamine and its precursors, as well as cocaine, heroin, THC and others. It can also detect conventional and homemade explosives. The device weighs 7 pounds and provides detection in 10 seconds, with complete analysis in 20 seconds.
Once you know a potentially lethal drug is present, you can take the necessary precautions to protect employees and inmates while the substance is contained and removed.
IDENTIFY UNKNOWN SUBSTANCES
Say you've found a suspicious baggie of powder – how do you know what you're handling? A handheld tool like the Target-ID can identify narcotics, synthetic designer drugs and cutting agents in less than a minute from a small sample.
The device, which weighs 5.4 pounds, takes less than 40 seconds to start up and comes with a pre-loaded library of up to 2,500 substances including fentanyl and its analogues. The library can be customized and expanded with up to 500 substances specific to your facility's needs.  Analysis with the Target-ID does not destroy a sample, which preserves evidence.  Lab-quality results can be printed and are court admissible.
Similarly, the IONSCAN 600, a portable desktop system, detects trace amounts of explosives and narcotics using single-use swabs designed to pick up trace particles. Widely used in airports, this trace detection technology also can be useful in correctional facilities to determine if a person has come in contact with a narcotic. The swabs can be used to examine surfaces in cells and inmates' belongings, clothing and hands, as well as mail and deliveries or visitors' belongings. 
Within seconds, IONSCAN 600 can identify trace amounts of various illegal narcotics and controlled substances, including morphine, buprenorphine (the active ingredient in Suboxone), cocaine, heroin and fentanyl analogues. The device also offers a specific mode for fentanyl detection.
KNOW WHAT YOU'RE DEALING WITH
The popularity of drugs like carfentanil among inmates means smuggling is a serious problem, making these searches more necessary than ever, even as they have become far more dangerous for COs.
Safety is paramount. When even a whiff of certain drugs can kill, portable detection tools can help COs be certain what they're dealing with so they can take appropriate precautions and responses during cell searches. 

Request information from Smiths Detection
Thank You!