Idaho jail's body scanner detects contraband on first day
Deputies found tobacco, meth, fentanyl and a syringe on an inmate returning from furlough
---
By K. Brewster
Lewiston Tribune
LEWISTON, Idaho — A body scanner at the Nez Perce County Adult Detention Center is already proving to be a useful asset.
Tuesday, the first day it was in use, the first person it was used on was an inmate who had been released on furlough and was suspected of having contraband. The person went through the scanner and deputies found three concealed baggies. One had tobacco, another had methamphetamine, a fentanyl pill and an unknown substance, and the third had a syringe, detention deputy Sgt. Joseph Broemmeling said.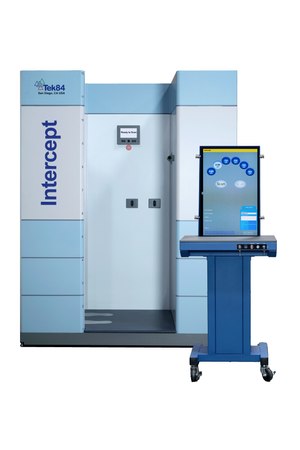 The Tek84 Intercept body scanner was purchased after there was an increase of inmates bringing in contraband, particularly fentanyl, into the jail last fall and winter. Nez Perce County Sheriff Bryce Scrimsher asked county commissioners for funds to buy a body scanner. Then bids were put out and the device was bought for about $140,000. Scrimsher is thankful.
Now those coming into the jail on their initial arrest or reentering after a furlough will go through the scanner. The person will stand in the scanner and face the wall, while staff run the scanner that makes a noise when it's scanning. A photo of the person's face, along with the person's name, will also be attached to the body scan photo on the computer so it can be identified later.
Deputies trained on the device Tuesday and Wednesday, which is more than learning how to push buttons, but also how to read the scan that creates an X-ray image. There are different levels of scans that can provide more exposure to produce a more detailed image of items concealed. Those more detailed scans take longer but can help a deputy identify contraband.
To assist the process, the body scanner has examples of items deputies can compare the image to, so they can identify contraband. It can also help identify images that aren't contraband. For example, Broemmeling said, if the person said they've had a hip replacement the scanner can show an image of what a hip replacement looks like so the deputy can see if the two images are similar to determine if it is a hip replacement or contraband. If contraband is found inside someone's body, the person is taken to a hospital to have it removed.
Before the body scanner, a person couldn't be cavity-searched unless a deputy had enough probable cause to get a search warrant, then take the person to the hospital to have the item removed by medical staff. The scanner is faster and more accurate.
"(It's) an amazing tool that we're able to use," Broemmeling said.
Download: How to buy body scanners
The scans do require people to stand still, which can be difficult if a person is under the influence of alcohol or drugs, but they can hold on to the outside of the scanner, another part of learning how the scanner operates. Broemmeling said that if a person moves too much, especially on a higher exposure, the image becomes blurry and misshapen.
The scanner also saves the image and it can be downloaded and placed in the person's case file. Depending on the substance, a person can be charged with a felony for bringing contraband into the jail.
Sometimes people will smuggle in drugs to be used by themselves or others. Scrimsher said that when people are released on furlough, which is when a judge grants a person temporary release from jail, they can return with contraband.
"Which is a problem that we're having. (Inmates) are being allowed furloughs and they're coming in with contraband and it puts everyone's safety in jeopardy when they do that," Scrimsher said.
That was the situation when deputies found the contraband on the inmate Tuesday and Scrimsher said it's not the first time it happened. The last two times someone was caught with contraband, it was after a furlough release. Undersheriff Mike Rigney said that other inmates know when a person is going to be released, so "they put in their orders" with the plan that the person will return with the items.
Broemmeling said the most common drugs brought into the jail are tobacco products and methamphetamine, like the most recent case whene an inmate allegedly brought back meth and tobacco after being on furlough.
Having contraband in the jail increases the safety risk, raises the liability, and inmates distributing drugs causes more concern. Scrimsher said that on several occasions deputies performed lifesaving measures on inmates who brought in drugs and overdosed.
"Our job here is not only the safety of our employees but it's also the inmates that are here too that we have to protect as well, especially with fentanyl being as deadly as it is in such a small dose — it doesn't take much," Scrimsher said. "Our detention staff does a great job every day paying attention to everything."
Staff at the jail will continue to monitor and respond to medical emergencies, but the body scanner figures to reduce those calls by catching the contraband before it's used. That lifesaving measure is something Scrimsher said he can't put a price on.
The scanner is also a benefit to the employees, who are at risk if weapons are smuggled in or potential drug exposure, and it makes the contraband detection process easier.
"The staff is very excited about this machine too," Broemmeling said.
Scrimsher is hoping the body scanner will deter inmates from bringing contraband into the jail.
"Hopefully the word will get out and deter people from even trying to bring any in," Scrimsher said. "Hopefully we don't ever find any again, and that's fine, we don't, but that'll mean it's done its job to deter it from coming in."
Brewster may be contacted at kbrewster@lmtribune.com or at (208) 848-2297.
___
(c)2023 the Lewiston Tribune (Lewiston, Idaho)
Visit the Lewiston Tribune (Lewiston, Idaho) at www.lmtribune.com
Distributed by Tribune Content Agency, LLC.
McClatchy-Tribune News Service
Request product info from top Corrections Body Scanners companies
Thank You!