Oregon jail combating contraband with body scanner
Officials say body scanners can cut costs long term by reducing the chance of lawsuits and the possibility of paying for staff overtime
---
By Hannah Boufford
The Oregonian, Portland, Ore.
PORTLAND, Ore. — The machine takes up almost an entire office, a red light lit as a conveyor belt moves through a metal tunnel.
The newly installed body scanner in Yamhill County produces an image of the inside of a person in less than 7 seconds. It can detect foreign objects and contraband, including weapons and drugs, inside a person before they are housed in the jail, and it does it with minimal radiation exposure. Additionally, some officials say body scanners can cut costs long term by reducing the chance of lawsuits and the possibility of paying for staff overtime.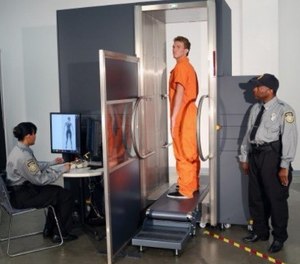 Body scanners are relatively new in Oregon county jails, with Washington County being the first to implement one in August 2017. Since then, counties across the state have been looking into, buying and beginning the installation process on scanners of their own.
"Once you start using a tool, you kind of rely on it," Capt. Michael Shults with the Deschutes County Sheriff's Office said. "Everything relies on technology now, and the better the technology gets, the better your workplace can become."
Officials say these scanners will help protect both inmates and jail staffs and that they are a less intrusive means of detecting contraband. For many counties, the technology was initially cost prohibitive. But officials said scanners are more affordable now as prices have started to come down and group purchases help cut costs, though the technology still tops $100,000.
But some officials saw the possibility of different costs adding up.
Lt. Matt Frohnert with Washington County Sheriff's Office said they looked at the cost of possibly having to staff deputies overtime to stay in a hospital with an inmate who overdoses. Polk County Sheriff Mark Garton said he has seen reports from other jails of million-dollar lawsuits filed after overdose deaths. Lincoln County Sheriff Curtis Landers called the price of a scanner a drop in the bucket compared to one of those lawsuits.
"It just clicked and hit home to the realization if something really bad happened here, and we hadn't done anything about it, that's a bad situation," Garton said.
Officials have described situations in which inmates attempt to smuggle drugs or other contraband into facilities when they are arrested. Some inmates may swallow small baggies, and some may try to stow contraband in body cavities. 
In June, officials took a Yamhill County inmate suspected of providing heroin to other inmates in the jail to Washington County to run her through the body scanner there, as Yamhill County's own scanner had yet to be installed at the time. Yamhill County Sheriff's Office's Capt. Chris Ray said this was the safest and quickest way to handle the situation. The inmate was found to have two plastic bags of suspected drugs in her body.
Bags inside an inmate's body could break or leak, exposing them to the drug, which could be deadly, some officials said. In other scenarios, if an inmate manages to pass or retrieve contraband in jail, he or she could then distribute the substance to others.
Sgt. Jeremy Ruby from Yamhill County said inmates may view being in custody as an opportunity to get sober, clean and back on track. Contraband available in the jail can be problematic for those trying to get clean.
"If we minimize it coming in," he said, "we can help that problem."
Drugs in jails can also prove as a hazard to staff members who come in contact with them. Just this week, K9 Abbie in Clackamas County was exposed to heroin during a routine contraband search in the jail. Authorities administered a K9 version of an opioid overdose reversal drug to Abbie after the exposure.
Capt. Lee Eby in Clackamas County said while they are waiting for a scanner to be installed, they hope the technology will help combat contraband coming into jail. The scanner would allow the jail to complete quicker searches in a less intrusive way, he said. 
"In that case, hopefully we identify more, and hopefully it becomes a deterrent," he said.
Washington County has reported success after implementing its scanner in August 2017. Frohnert said now that people know the scanner is there, the machine itself acts as a deterrent. He said the jail has seen an increase in the number of stashed drugs found in intake areas and that they have also caught people with the scanner.
Still, officials recognize the method isn't foolproof. It takes trained personnel to be able to distinguish between possible foreign objects and typical gas bubbles on an image of an inmate from the scanner. But many still see body scanners making their way to Oregon jails as a positive thing.
"This extra layer is going to benefit us in a lot of ways," Shults said, "and keep the inmates safe and our staff safe."
©2018 The Oregonian (Portland, Ore.)
Request product info from top Corrections Body Scanners companies
Thank You!